Welcome. To make things easier for you, dear reader, I am gathering my far too many mediations on Trump on this new page. Pulling together blogs on Trump I've been doing since the started his presidential bid has tuned into a kind of diary of my obsession with trying to make sense of Trump. Finally, I've accepted there is no sense to it. Trump is simply a symbol of a bygone era, of bygone values. Thank God!
It's taken me a lot of heavy mental lifting to get back to my heart center on Trump. In fact, it's been the most challenging soul experience of my six plus decades years on the planet.
My false sense of confidence I could handle Trump and his three ring media circus is because I've voted as many times for Republicans as Democrats. Meaning I thought I could be objective about Trump news as an Independent.  WRONG!
And just so you know, despite all this Trump indifference, I was part of the "largest inauguration crowd ever" who wished Trump well on his new presidency. But that good vibe vanished with his executive order that ignored the rights of the Standing Rock tribe. One he made before I even left DC to go back home to scared Sedona. That was a breaking point for me in the shortest honeymoon I've ever given any president.
But I digress.  Next thing I'll be bragging again, as I do to often, how I built Oprah's Harpo Studios and a Chicago skyscraper. I am humble about my modest mogul days. I simply offer my backstory so you know I have the dog eat dog world of real estate in common with Trump. I even had the bad dad thing he does. So I do have sympathy with Trump, much as he makes me insane at times. He's neither the devil the liberal media makes him to be or the avenging swamp angel conservatives promote him as. Trump's just guy with zero political experience, too much sex drive and a bad temper.
Have Trumpy time reading my MEDITATIONS ON TRUMP; maybe a book someday. Above all, play nice, Ken Sheetz
Originally posted May 23, 2018
The Secret Agenda of Today's Stupid Shit
For years we've been hearing whispers that America is intentionally being dumbed down by the 1% who run the planet. If true, whisper time is over. One look at the news on any day at all the stupid shit happening in DC makes it painfully obvious that the dystopian film "Idiocracy" is coming true a lot sooner than 500 years from now.
The President Camacho for this global dumbing down that America leads with a passion formerly reserved for the space race? Who else?
Hey, don't take my word for about Mr.-I-Herby-Demand-the-DOJ-Investigate-the-Meuler-Investigate's idocracy., Rex Tillerson aptly, Rex described Trump "a fucking moron."  Lucky for him, Rex lost his job because Trump runs the executive branch like THE APPRENTICE.
Old saying in the Chicago corporate world I grew up in: First-rate people hire first-rate people. Second-rate people hire third-rate people. Exhibit A of a third-rate hire by our second rate president? Saccharin idiot, Education Secretary Besty Devos. Her mission to dumb down our schools is as transparent as her fake smile.
Stupid Trump shit goes on daily that infuriates the left, which in turn agitates the right into hating the left for seeing what they don't see due to their current stupor of a steady diet of the real fake news on Fox & Friends. This generates a negative feedback loop that is rocket fueled by social media, 4AM Distracter In Chief Tweets, Russian trolls, yes, they are still giving America a taste of its own destabilizing foreign powers medicine, all reported ad nauseam by the Trump crazed 24/7 news cycle.
Talk about disturbing to one's peace of mind! But, ah, my theory, gained by a lot of reading, watching news and meditation, is that none of this stupid shit is accidental. So why is all the Trump fueled anger mongering?
Back to the 1% who are aware that numerous scientific studies have shown human beings lose 10-15 IQ points when angry. Hello dumbing down of the people by the elite using Trump as their champion of dumb!
Now, that you've been clued into secret agenda of the elite using Trump as a wet nurse to birth a race of fools – assuming you believe my theory, which dawned on me in yoga meditation BTW – please turn your back on Trump's 7-year-old temper tantrums until it's time to vote. Let's drive the bad guys nuts with our intelligent indifference.
Meanwhile, as we wait to vote in fall of 2018 and again in 2020, here are some great tips from PSYCHOLOGY TODAY's a 2011 article, one of the sources researched for this blog post to help you stay cool, and therefore smart. The article, worth your read, talks in detail about anger's draining effect on IQ.
How to Counteract the Brain Freeze and Gain back your IQ Points – Source PSYCHOLOGY TODAY
1. Give your brain a recess.  Think of young kids in school, when the bell rings for recess. They yell and scream with free time. Your mind needs a recess to wander in an unstructured a manner. Often in this recess an idea or solution may emerge to an issue you have been dealing with.
2. Turn off the TV or radio if you aren't consciously wanting to get news or entertainment. This is so you don't burn critical brain resources by stimulating a fear response without knowing it.
3. Seed your Unconscious. Give your unconscious instructions to work on an issue in the background as you focus on something else.
4. Clear the deck. Focus on something else for awhile or talk to a friend who is positive to change your sense of overwhelm. Allow the prefrontal cortex and your working memory to recharge.
5. Practice a mindfulness exercise. Focus on your breathing or really stay focused on what you are doing in the moment. Feel your body in space as you sit or move. Meditation, yoga, walking or a massage are ways to allow the prefrontal cortex to recharge gain your IQ points back.
Meditation has the power shape our scary reality into something more pleasant and equitable for humanity. Be smart. Trump's not worthy of your attention.
Originally Posted 5/20/18
Tip #1 to Avoiding Trump News Overexposure – Comedy
Trump news, both comedic and conventional, is so incredibly pervasive in 2018 we simply cannot avoid it.
Ironically, and there's no end to irony in these Trumpy times, talented comedians, 99% of them left leaning, riffing on Trump News has become a major source of over-saturation of fascination with Trump's every Tweet and stumble.
I searched Google for this piece, but I cannot find stats on how many hours of Trump news we have been bombarded with daily for three years solid now.  My guess? 500 hours of new Trump content is created on mainstream media per day. My guess is based on how many 24/7 shows plus daily comedy shows focus on the Tweeter in chief.
Blame or credit, depending how you feel about Trump news, the proliferation of today's bumper crop of comics riffing on the Trump on granddaddy comedian Johnny Carson. As host of the TONIGHT SHOW for three full decades, from 1962-1992, "Here's Johnny" introduced the jokes based on the daily news as part of his live show comedy monologues.
Flash forward, past LAUGH-IN, Chevy Chase spoofing the news with Jane Curtain on SNL and all their SNL News descendants, and you come to the father of modern comedy newscasting; the very talented Jon Stewart. His stint as the host and head writer of Comedy Central's hit show THE DAILY SHOW broke the bank on his TV progeny doing comedic news.
But, BIG BUT, all these new shows have a serious liberal tilt. In other words, your brain will be hopelessly liberal slanted if you watch them all in one sitting. Take my word for it because I used to watch each and every one of these lib-talents daily before I realized I was addicted to the Trump feeding frenzy.  I slowly fell into filling my heart with comedic rage.
A term I may have just coined, comedic rage is repressed anger venting itself as "It's better to laugh than cry!" A good thing in moderation, but in the excess coverage of today not good for the soul.
In fairness to today's comics, of which I've been one via my 6.5 million view KidsTalkPolitics channel before it got hacked, the crazy stuff Trump tweets, typos be damned, is so damn funny it really does take fleet of comics to cover the insanity. Ah, yes, it will be a sad day when Trump's admin ends one day, but since I don't see on impeachment in my crystal ball, live it up funny people.
Back to why I began this post, if you want to keep some political objectivity in your life, the Coolest Meditation Ever (CME) Trumpy, picture a portly Oscar, goes to Stephen Colbert.  Forget the rest. Colbert's's obssessed with Trump take downs and he's all you need.
Well, there is one other Trump comedic must-see, Baldwin.
My advice? Go light on Trump comedy binging. From hard won personal experience: More than two comic romps per day renders Trump comedy as unfunny as jokes about Trump not knowing the difference between HPV and HIV.
Originally Posted 5/9/18
Let's Not Make America 1984 Again
Like many of we independent voters seeking to straddle both sides of the political fence to promote unity and harmony during a dangerous point in history, where the Doomsday Clock has seldom been closer to midnight, I have worries when it comes to President Trump. And the biggest worry I have, with the favorite son of Brooklyn, is his disrespect for the fabric of reality. Namely, the truth.
The events of the past week of the 24/7 Rudy/Trump truth tap dance unreality show helped me see clearly that truth has become public enemy #1 for the Trump team.
Now, we all know politicians in general have a low regard for telling it like it is. But Donald Trump, from day one with his yuge "largest inauguration crowd in history" lie, is breaking all records for lying; telling a whopping 2,140 fact-checked lies in his first year in office according to the Washington Post.
Now, Trump will happily tell you from the rose garden, or via 4 AM tweets, that the Post is lying about Trump's lying. #WITCHHUNT! He bemoans to his followers it's is all a #SAD DARK STATE plot by Jeff Bezous, the founder of Amazon, who recently bought the paper that broke Watergate, and seeks to now break Trumpgate.
The term for all is nonsense is "gas lighting", defined as making someone think they are crazy for not believing your lies, like in this classic gas lighting scene starring Joey Bishop.
Seem familiar when you look at Trump's enablers Kelly Ann Conway, Rudy Giuliani and Sarah Huckabee with their daily Silly Putty manipulation of reality?
Most politicians lie when there's some measure of credibility that gives them a chance to get away with it. Trump is different. He lies right to your face, behaving like the king of what is in fact reality. Heaven forbid anyone disagrees with Trump's lies or he'll seek to humiliate you on Twitter even if you're a war hero or Parkland survivor.
Trump is not your typical political liar.  He's a man in a comb over as fake as he is on a power trip akin to what author George Orwell foresaw in his novel "1984", written way back in 1949.
I could go on about "1984" parallels in Trump gas lit reality. However, in researching my own meditations on Trump I found this cool article written two days ago by the BBC, one of the go-to media sources in to escape our polarized American media.
Thank you BBC for saving me the brain damage. You see, I am battling an addiction to Trump news. One brought on by 24/7 seesaw game Trump uses to make the media his pawn and gas lighting the hell out of us.
Great Vox video here about which ends with Trump gas lighting a reporter.
1984 is not the kind of book that has a happy ending. It ends with an interrogation where the hero, after torture, is told to see 5 fingers when only 4 are help up.
My fellow Americans, right and left, wake up. Trump is no bumbling liar as the liberal comedians and reporters portray him or a man fighting the deep state as the conservative media portrays him to be, lulling you into a sense of false superiority and security.
In closing, I won't leave you in fear. That's the media's job, right or left. Rather I leave you with the assurance that despite how bad things look right now, the truth is a real thing. And truth always wins out in the end. I'd just like to wake few people up to reduce the pain of having to live through making America 1984 again.
Don't be a truth ostrich, liberal or conservative, and stick your head in the sand. Don't be like a lover who wants a cheating mate to tell them sweet little lies like the Fleetwood Mac masterpiece.
Even though the great Fleetwood Mac singer Stevie Nicks wants sweet little lies, the paradox is they how sick she knows it all is in the amazing lyrics.
LITTLE LIES
Tell me lies
Tell me sweet little lies
(Tell me lies, tell me, tell me lies)
Oh, no, no you can't disguise
(You can't disguise, no you can't disguise)
Tell me lies
Tell me sweet little lies
[Verse 3: Christine McVie]
If I could turn the page
In time then I'd rearrange
Just a day or two
(Close my, close my, close my eyes)
But I couldn't find a way
So I'll settle for one day
To believe in you
(Tell me, tell me, tell me lies)
[Chorus: Christine McVie]
Tell me lies
Tell me sweet little lies
(Tell me lies, tell me, tell me lies)
Oh, no, no you can't disguise
(You can't disguise, no you can't disguise)
Tell me lies
Tell me sweet little lies
(Tell me lies, tell me, tell me lies)
Oh, no, no you can't disguise
(You can't disguise, no you can't disguise)
Tell me lies
Tell me sweet little lies
(Tell me, tell me lies)
Many Americans, Evangelicals in particular, are in this gas lit trap of sweet little lies, hoping their deal with the Trumpster will get them what they want. And to some degree they are… for now. Trump has been fastidious in seeking to keep all his campaign promises. But his masterful magic is those promises of a ideas being good for us were lies to begin with. Yikes.
Watch the truth about Trump, but don't overdose on the news, right or left. News shows might be out to depress you for the sake of pharmaceutical sponsors out to sell antidepressants. Don't let Trump news absorb you, as it did for me for so long, and is still doing to some degree as I fight to free my consciousness before your very eyes.
Truth is. we've seen enough of Trump's ways to be wise without further infecting our minds and souls to make our judgement to reject him as worthy leader. Save the anger for the voting booth.  Avoid the trolls. Avoid over posting hate for Trump on your pages. Have faith and support the people fighting for the truth and be patient.
Bide your moment, and when it comes time to vote, vote the truth back into the oval office, Congress, the Senate and local offices. I say local because make no mistake about it, the Koch brothers and others, right and left alike, are working their agenda all the way down to your local dog keeper's level.
Truth is the oxygen of freedom.
Originally Posted April 25, 2018
ADDICTED TO TRUMP NEWS?  YOU'RE NOT ALONE
Hi, my name is Ken Sheetz… and I am a Trumpaholic.
A quick Google search defines addiction as "the fact or condition of being addicted to a particular substance, thing, or activity." And that addictive activity in my case is overdosing on Trump news.
I forgive myself for my strange addiction because we are all living in polarized reality where our media is getting rich as lords pitting liberal versus conservative Americans against one another. Spoon feeding both camp's deepest and darkest fears about Trump and his followers or opponents.
Admitting your addiction to today's weaponized media is half the cure, so I've complied the following handy questionnaire of Trumpaholic symptoms, from both a liberal and conservative POV. May it shine a humorous light on our new national pass time: Trump.
Do you read Trump's daily tweets before MSBC, CNN, Etc. can report what a horrible president Trump is? Or do so before Fox and Breitbart can report what an amazing genius super stable president Trump is? All in an endless electronic circle jerk of full employment for the makers of the news and comedy?
Further down the Trump rabbit hole, do you tweet-troll Trump as villain on his POTUS page? Or do you take up your mighty PC as sword to do Twitter battle with the sanctimonious lyin' Comey fans to defend Trump the hero/king?  Either way, the odds favor that you are having a flame war with a Twitter bot or Russian troll farm employee whose full job it is to sow hatred between we Yanks.
Do you follow the ups and downs of Trump's cabinet and family like a soap opera, or better reality show, but one where the stakes are life and death for us all in hail of nuclear bombs sending us all back to the Stone Age?
Does Trump news, bad or good, raise your blood pressure? No shame. Love or hate Trump, adrenaline has no political affiliation. Liberal or conservative the media both sell fear and fear causes adrenaline levels to rise. They know the adrenaline buzz hooks you. Trump news addiction is great for ratings.
Do you dream or daydream of advising Trump? Maybe turning his contreversial presidency into a new Camelot to bigly surpass JFK's?– Get real, my fellow Trump junkie. Trump listens to no one but his own bathroom mirror's reflection.
Are you sometimes jealous Trump was born with a silver spoon in his mouth? Might you stew that no matter how many times he ruins a business he just files for bankruptcy and bounces right back with that smug grin on his face some of us love or  hate?
Are you the secret sorcerer who uses Trump memorabilia to cast potent magic spells that have cursed Trump's presidency? Hopefully you don't live in Salem. Or are you a gung ho convert, once a Hippie, but now you proudly wear your MAGA hat, following Trump on the road like a Dead Head to his fevered rallies that started 2.75 years ahead of the normal election cycle? If so, feel free to skip the rest of this test and immediately take the Trumpaholic oath below in the comments below.
Are you jealous you cannot hop aboard your private Presidential Boeing 747 on a whim, an army FBI agents and your more trusted private bodyguards in tow, then wing way to your Mar-A-Logo Florida palace to golf and hobnob with the super rich and world leaders? Pardon my WTF! But from both a liberal or conservative we need unite if just to put a cap on this taxpayer abuse.
Do you secretly wish you too could whisper sweet alternate realities to your loyal voter base who happily let slide the 2,000 sweet little lies that Trump racked up his first year in office? Liberal or conservative, you gotta admit Trump makes Teflon look like a porous substance.
Do you steal time from your job to sneak a quick rubberneck on your Mac or PC on the latest Trumpsaster, as though the fate of world depends on your knowing what he just Tweeted at 4AM from his golden toilet?
Afterwards, as a Trump chaser, do you annoy all your friends on FB posting the latest doom and gloom story from CNN on how Trump is going to: A. Cause a nuclear war with North Korea, Russia and/or China, B. Inspire a new race of Nazi bullies to take over America and appoint Trump as lifetime Fuhrer, C. Start an American Civil War (Hmm. Most of us don't vote and we should worry about a Civil War?), D. Name a KKK member to the Supreme Court, E. Add any number of dark scenarios that your favorite niche news source feeds you, giving you ulcers and high blood pressure. If conservative, flip A though E over.
Have you lost a boatload of FB friends crusading either for or against Trump? With any luck, the so called friends you lost are the same idiots dragged you into the Cambridge Analytica mess.
Does your stomach growl as you pass your local fat factory, AKA McDonald's, secretly wishing you could stuff your face with cheese burgers and fires daily in bed watching Fox & Friends reruns of your triumphs? All washed down by a dozen diet Cokes like Trump, and the still only tip the scales at a fit 239 due to your great genes! Or are you're a health nut, repulsed by the mountains of cholesterol he ingests that would normally kill a horse, while you gain a pound even smelling a single french fry?
Have you've chuckled, or downright belly laughed, at viral videos of Trump on the tarmac, his combover flying at half mast? Or have you scorned liberals' cruelty laugh at your hero desperately trying to look 20 years younger than his true senior self with his amazing comb over, one that keeps him busy half the day?
Have you ever compared your hand size to Trump's? Or does it annoy you how low desperate liberals are to dare attack your hero for his modest hand size and conversely penis size?
Do you want lock Hillary or Trump up? Or maybe put them both in adjoining cells?
Do you boo or cheer when Mueller appears in the news with his endless Russia probe or raid of a Trump crony, while you wish he would just get it the hell over with already?
Are you are studying Russian just in case the rumors that Trump's a Putin puppet are true? Or do you get outraged over "The Russia, Russia Witch hunt" persecution of Trump by our "corrupt" FBI, who are secretly stooges to the Democrats?
Have you bought Comey's new tell-all book and all the others popping up on Amazon like weeds on the Whitehouse lawn, to read or burn them?
Are you up on the latest conspiracy theories about the Deep State looking to bump off the Trump like the bastards did to JFK?
Does your brain hurt trying to ethically rationalize Trump's affairs with porn stars and Playboy models while you find all the scandals vindication for how sleazy you always knew the Trumpster was? Or do you rage at your TV like a poor man's Alex Jones at the sneaky liberals planting fake affairs?
Do you want to free Melania? Or do you realize hers and Trump's was likely an open marriage from the get-go?
Do you watch the bevy of comedians do a daily pile on of every Trump stumble in this marathon of shadenfreude; the German name for joy from other people's misery? Trump's become a cottage industry for comics. To name a few: Colbert, Noah, Maher, Fallon (late comer), Badlwin, Conan, Bee, Kimmel, and Oliver. I confess some days at the peak of my addiction I'd watch all the comics back to back. It adds up to days of wasted time I'll never get back.
Last, if you have read this far it likely means and answered yes to any question you too are a Trumpaholic. Welcome to Trumpaholics Anonymous!
Now, before you run off in huff about my calling you a Trump addict after we just electronically met, don't blame yourself. Love or hate him, the Donald is the unquestioned all-time champ for holding the media spotlight for liberals and conservatives alike. Trump is a Jackson Pollock-like political artist.
On any given day, Trump might toss a splash of  red collusion denial across his Twitter canvas, followed by gush of Stormy blue porno scandal, a dash of sunny yellow clown-like lawyers, then finish it all off with a gloop of WITCH HUNT! orange. And before the paint has dried Trump's onto his next Pollock-like masterpiece.
Meantime, the mass media, comic and straight, liberal and conservative alike, broadcasts everyone of Trump's crazy "tweet paintings", pre-packaging what we Trumpaholics should think depending on the shade of our political box they jam us into. Truth is, today's mass media is not so much "fake news" — a Trump trademark — as hopelessly niched.
Our shark media can never stop swimming and micro-judging everything Trump says or does. Lazy reporters pretend they love or hate what Trump tweets. But if they are honest with themselves, most know journalistic integrity died decades before Trump took the political spotlight.
Remember the Bush era? That's when media first saw after 911 that fear can fuel the 24/7 news cycle. And presto the media became compliant in the whole WMD scam to launch the Iraq War and embed journalists to bring the horrors to your living room.
After years of Orange Alerts and no sign of WMDs, the American people finally got wise to the media broadcasting Bush's fear tactics and news ratings fell. How then, the MBA's pondered, to generate fresh fear mongering for maximum profit? And viola, depending on whether you're a young gun toting pickup truck driver or an old tree hugger granola eater, Trump was crafted into a demon or angel. All broadcast on a newscast perfectly tailored to scare the living shit out of you.
Too much of anything, good or bad, is unhealthy. Americans have never seen anything as ridiculous and the 24/7 media circus that ruminates over every Trump act and tweet. So I invite you to join me on this blog in cutting way back on Trump news and news in general until we are given more truth.  Face it Mass media is so conflicted it will never give us break. So we have to make one ourselves
In closing, you have a lot to gain watching lots less Trump news. Join me. You will feel lifted. Buh-lieve me!
Originally posted 1/24/18
NEW TOOL FOR THE SHIFT
There's a lot of darkness in the world these days.  We can't seem to catch a break from Trump's scandals and horrors. So good dreams are most welcome, and I want to share a big one to shine some love and light that came my way like a bolt out of the blue yesterday.
In my dream I see a distant giant domed structure much like the one in DC but this one is topped with a slender shaft of light that pokes from the mists against a gorgeous sky.  Fascinated, I will myself to fly to the dome. I land beneath the magical dome. The color palate of the amazing building is pure whites and pale golds.
My love Elizabeth is at my side dressed as a Greek warrior goddess. We are accompanied by our little rescue dog Lincoln, who at my request transforms into a white dragon. He and Elizabeth stand guard for our visit to this power place as I do my meditation.
I reach my hand up toward the gold encrusted dome ceiling. I gently will the shaft of light to me. It gracefully descends to become a staff that's pointed at both ends, almost like a spear.  I take hold of the staff, feeling a thrill of freshness and light.
Our mission accomplished Lincoln returns to his Chihuahua form and we all vanish before we are noticed.
I sit up in my Sedona bed, still in a light trance.  I thrill to the feel the 6 foot long staff made of pure white energy. It pulses with vitality in my grip. I realize it's made of solid energy, as real as the desk I am writing this blog from in the wee hours of Sedona.
Then I hear a sweet but powerful familiar female ET voice I've not heard since she gave me the mission for the Antarctica meditations of 2012! Madame Chairwoman of the Galactic Council's voice echoes in my mind, "Commander Sheetz, it's good to finally reach you! There is much corruption on your world seeking to halt the shift. Use this staff — named for a sister planet Hipacrin, which survived the same madness that now grips your blue world — as a tool. A gift from the Galactic Council to help bring forth the new era."
I offer thanks, but the ruler of Galactic Council almost sheepishly adds. "However, to wield this staff — made of pure energy from your North Pole — in planetary meditations, you will need to give up the eating of meat."
I worry because I've tried to be vegetarian three years ago and failed, but I nod my agreement to try to give up eating meat once again.
"Farewell for now then, Commander Sheetz. And remember no meat or the staff of Hipacrin will cease to exist."
Elizabeth sees me sitting on the edge of the bed and I tell her about this first DreamShield vision in over a year. Our little dog wakes too and now our mission trio is happily reunited in the 3D world.  While we cuddle play with Lincoln, still afraid of me in real life, I tell Elizabeth of how I must give up meat to use the staff. She pulls me into a loving kiss.  A real-life goddess, Elizabeth has been wanting us to go vegetarian almost from she came to join me in Sedona two years ago.  So this is a happy morning.
Thus far I've gone my first 36 hours without meat quite easily.  And I've already done several powerful planetary meditations with the new white staff of Hipacrin. I am seeing visions of it shattering holds of the dark energy on the shift already. A better day is coming!
If you follow the blog you know, the ETs have been telling me for years that we humans will never evolve to our highest selves if we kill and eat out fellow earth creatures. I hope you'll join me in at least trying to give up meat. We need to change something in the equation.  A lot of us quietly giving up meat cannot be controlled by the dark status quo.
Yes, abstaining from meat is the white staff of power we can all take up and reduce pollution of world both physically and spiritually.  But however it turns out for any us seeking to kick our meat addiction, no regrets!
Originally posted 1/21/18
THE NC-17 PRESIDENT
There's a lot of darkness in the world these days.  We can't seem to catch a break from Trump's scandals and horrors. So good dreams are most welcome, and I want to share a big one to shine some love and light that came my way like a bolt out of the blue yesterday.
In my dream I see a distant giant domed structure much like the one in DC but this one is topped with a slender shaft of light that pokes from the mists against a gorgeous sky.  Fascinated, I will myself to fly to the dome. I land beneath the magical dome. The color palate of the amazing building is pure whites and pale golds.
My love Elizabeth is at my side dressed as a Greek warrior goddess. We are accompanied by our little rescue dog Lincoln, who at my request transforms into a white dragon. He and Elizabeth stand guard for our visit to this power place as I do my meditation.
I reach my hand up toward the gold encrusted dome ceiling. I gently will the shaft of light to me. It gracefully descends to become a staff that's pointed at both ends, almost like a spear.  I take hold of the staff, feeling a thrill of freshness and light.
Our mission accomplished Lincoln returns to his Chihuahua form and we all vanish before we are noticed.
I sit up in my Sedona bed, still in a light trance.  I thrill to the feel the 6 foot long staff made of pure white energy. It pulses with vitality in my grip. I realize it's made of solid energy, as real as the desk I am writing this blog from in the wee hours of Sedona.
Then I hear a sweet but powerful familiar female ET voice I've not heard since she gave me the mission for the Antarctica meditations of 2012! Madame Chairwoman of the Galactic Council's voice echoes in my mind, "Commander Sheetz, it's good to finally reach you! There is much corruption on your world seeking to halt the shift. Use this staff — named for a sister planet Hipacrin, which survived the same madness that now grips your blue world — as a tool. A gift from the Galactic Council to help bring forth the new era."
I offer thanks, but the ruler of Galactic Council almost sheepishly adds. "However, to wield this staff — made of pure energy from your North Pole — in planetary meditations, you will need to give up the eating of meat."
I worry because I've tried to be vegetarian three years ago and failed, but I nod my agreement to try to give up eating meat once again.
"Farewell for now then, Commander Sheetz. And remember no meat or the staff of Hipacrin will cease to exist."
Elizabeth sees me sitting on the edge of the bed and I tell her about this first DreamShield vision in over a year. Our little dog wakes too and now our mission trio is happily reunited in the 3D world.  While we cuddle play with Lincoln, still afraid of me in real life, I tell Elizabeth of how I must give up meat to use the staff. She pulls me into a loving kiss.  A real-life goddess, Elizabeth has been wanting us to go vegetarian almost from she came to join me in Sedona two years ago.  So this is a happy morning.
Thus far I've gone my first 36 hours without meat quite easily.  And I've already done several powerful planetary meditations with the new white staff of Hipacrin. I am seeing visions of it shattering holds of the dark energy on the shift already. A better day is coming!
If you follow the blog you know, the ETs have been telling me for years that we humans will never evolve to our highest selves if we kill and eat out fellow earth creatures. I hope you'll join me in at least trying to give up meat. We need to change something in the equation.  A lot of us quietly giving up meat cannot be controlled by the dark status quo.
Yes, abstaining from meat is the white staff of power we can all take up and reduce pollution of world both physically and spiritually.  But however it turns out for any us seeking to kick our meat addiction, no regrets!
Originally posted Stardate 1.10.2018
TRUMP MIND MELD
By Ken Sheetz © 2018
One of the main things I love about Gene Roddenberry timeless Star Trek is its view of Utopian future where greed and racism no longer rule humanity. Trek and all it's predecessors were not afraid to take on big social issues of their time.
It's in that tradition I've written A STAR TREK PARODY – TRUMP MIND MELD.  Apologies to Trump fans in advance for making him the baddie in this story. It's merely fictional humor I am using to show how silly our Trump fears are. I mean no disrespect of the fact Trump makes such a cool villain.
Enjoy, share and "live long and prosper." – Ken Sheetz
The USS Enterprise glides through the stars, passing a huge asteroid. We hear the familiar voice of Captain Kirk.
"Captain's Log, stardate 2264.2. The Enterprise is accelerating to time travel warp speed on a journey to the eve of World War III. All in the hopes of altering the timeline and averting the loss of billions of human lives."
We join Kirk in his cabin, feet propped up on his desk, dictating to the ship's computer.
"What the outcome of such a drastic timeline shift will be for our own time, the 23rd Century, is anyone's  –"
A knock on the cabin door stops Kirk's log dictation. Annoyed, he says, "Enter."
A troubled Spock steps through the pneumatic doorway. A fidgety Dr. McCoy right behind him.
Before McCoy can speak Kirk cuts him off, "Save it, Bones. Spock and I are dead set on this mission to 21st century America and that's all there is to it."
"Damnit, Jim! As ship's doctor I hereby file my formal complaint you're ignoring grave dangers to Spock's sanity when he melds with Trump the Mad Dictator."
"Captain, I assure you I am quite ready for this mind meld," Spock says.
"Spock, you're a bigger idiot than Trump if you can't see the man has to have a mind to perform a mind meld!"
"Gentlemen, must I call security to escort you back to your quarters?" says Kirk, hiding a smile.
"No need, Captain. The doctor is just being his normal illogical and most annoying self," Spock says.
"Bones, the needs of the many outweigh the needs of the… Trump?" say Kirk, making a lame joke no one laughs at.
McCoy throws up his hands in disgust."Well, if you two 'very stable geniuses' want to roll the dice on Spock's sanity and the very existence of Star Fleet, who I am to stop you?!"
Dr. McCoy spins on his heels and exits Kirk's cabin in a huff.
MESSY MESS HALL
A short time later in the mess hall Kirk pulls a Mac Jr. and french fries from the food replicator and places them before Spock saying, "I present Trump's favorite food: The Big Mac."
"Incorrect, Captain.  If I may, what you have placed before me is in fact a Mac Jr."
Kirk arches an eyebrow and says, "A Mac what?"
"Junior.  Indeed, Captain.  This is a smaller version of Trump's favorite choice of sustenance – the Grand Mac.  It features a single 1/6 pound patty as opposed to the double 1/10 pound patties featured what you have mistaken as a Big Mac. The Grand Mac offers an astounding two 1/6 pound patties and was in fact believed to be Trump's Mac of choice. "
"Spare me the niceties of scale, Spock. Nutritional analysis."
Spock passes his beeping his tricorder over the Mac Jr.,"Most peculiar, Captain."
"Elaborate."
"This Mac Jr. has nearly zero nutritional value, by 23rd century standards of course. Therefore, we can deduce this factor is a zero constant regardless of scale. Worst of all, the Mac is filled with enough grease molecular matter to clog the ship's drainage system," says Spock shoving the Mac Jr. away in disgust.
"Sorry.  Eat it, Spock.  If you're going to mind meld with Trump you must eat as he does."
"Captain, there must be some other way to alter my vibratory frequency than this, this poison! A person would have to be insane to…"
"Exactly. I swear to you, Spock. Our archeologists say this was Trump's actual daily diet.  Hey, it could be worse.  Think what you'd be eating if I knew about the Grand Mac."
Spock takes a nervous bite of the Mac Jr. and his eyes go wide in horror. "Is this real meat, Captain?"
"Sort of," says Kirk as he sniffs the Big Mac.
"But I am vegetarian, sir, as all Starfleet is"
"Well…Try the French fries, Spock."
Spock shudders, downing a fry whole without chewing. He coughs.
"You look greener than usual, Mr. Spock," says Kirk, laughing at his own joke.
Spock cracks a rare smile and says, "Permission to vomit, sir."
Spock projectile vomits all over Kirk.
"Permission granted?" says Kirk, his face dripping Big Mac and fries.
"Apologies, sir.  This Mac Jr. of your past is most toxic."
"Caught me off guard with your rare smile, Spock."
"Sorry, Captain. On Vulcan a smile often warns of eminent expulsion."
"OK, this concludes our 21st century dietary experiment," says Kirk as he wipes vomit from his eyes.
"It's a wonder Trump survived the Mac assortment where he's obsessively, ugh, consume all three plus fries and a shake. Shows me not to underestimate President Trump," says Spock as he helps clean off Kirk.
TIMELINE CLUSTERFUCK
A short time later a cleaned up Kirk is perched in his captain's chair. The viewing screen on the command deck beeps and boops as the ship buffets through layers of crystalline rainbows.
Kirk spins his command chair to Spock at the science station, "Glad to see you're not smiling, Mr. Spock. Report."
Spock, his eyes aglow from a personal view screen. says,"Undoubtedly a convergence point of timelines reaching epic proportions,"
"A clusterfuck of timelines," says Kirk to Spock's dazed look. "21st century slang, Mr. Spock."
"Ah, yes, clusterfuck of timelines. Affirmative, Captain."
Scotty bellows over the ship's intercom, causing Kirk to almost spill his coffee, "Timeline turbulence! It be tearin' our wee ship ta bits, Captain! I canna — "
"Hold her together, Scotty. Blah, blah, blah," says Kirk, bored with Scotty's typical bellyaching.
"Meeting Trump the Mad Dictator already got you off your game, Jim?" teases Dr. McCoy.
At last the battered Enterprise exits a red-colored rip in space and glides into orbit over the USA.
"The Enterprise has successfully entered 21st century earth-space, Captain."
"How can you be so sure, Spock?"
"Confirmation from the Twitter-verse. Trump's virtual realm," says Spock.
"Please be more precise, Spock."
"Picking up news chatter on their primitive newscasts that — "
"Correction 'fake news', Spock.  Speak Trumpese."
"Duly noted, Captain. The precise time is January 11th 2018 at 11:11 PM Eastern Clusterfuck time," says Spock.
"Ah. Three months before Trump's preemptive nuclear strike on North Korea. Excellent work, Spock," says Kirk. "You get a raise."
Spock reacts in puzzlement, "A raise? To where?"
"Um, when we reach Trump you best leave the talking to me," says Kirk with proud smirk.
"With pleasure, sir."
Chekov pipes in, "Captain Kirk, vith all due respect, sir.  Vee Vould have much better chance of success approaching the Russian who runs Trump… Putin."
"We've been over the timeline computations a thousand times, Mr. Chekov. Trump has a far more suggestive mind for melding than Putin's."
"On that we can agree," says McCoy.
Sulu palms his forehead, "But, sirs. Historical records report Trump's acting like a fool was just that, an act! Truth is Trump is a mental giant who will crush — Uh, sorry Mr. Spock.  No offense intended."
"Clusterfuck you, Mr. Sulu," says Spock.  Kirk rolls his eye in disgust.
"History shows Trump was, 'like, wherry smart'," adds Chekov in his thick Russian.
"'A very stable genius!'"says Sulu, spinning from the navigation consel.
Bones goes refaced and says, "Keep your damn eyes on the screen, Sulu! You and Chekov have been hoodwinked by 200 years of propoganda and myth surrounding Trump the so-called Great. Ha. Great fat ass, is more like it!"
"Who can blame them, Doctor? History is always written by the clusterfucking victors," offers Spock, proudly eying Kirk who looks down in to his coffee to avoid Spock's eye contact.
"Bones' son, a highly skilled timeline archeologist, has determined the so-called genius Trump the Great was in fact barley literate and a, um…" says Kirk trailing off.
"Moron?" says McCoy with grin as he catches up to Kirk and Spock heading for the ship's turbolift.
"I was going to say "fucking moron', like his Secretary of State Tillerson called him," says Kirk.
"Do you not meaning clusterfucking moron, Captain."
"You're overdoing it with the cluster thing, Spock. Fucking is sufficient."
"Sounds like you could give my son a run for the money on timeline trivia, Jim." says McCoy as they reach the turbolift.
"Sorry, Bones. Need you to stay aboard in command in case anything happens to me and Spock," says Kirk as he tugs his top off to prep for a quick costume change.
"Damnit, Jim. I'm a doctor. Not nursemaid to a presidential idiot. So I am sending Nurse Oberon in my place. She's waiting for you in the transporter room. And, Jim, You and Trump are more alike than you know, keep it in your pants for a change," says McCoy as the elevator door to the turbolift closes on Kirk's annoyed face.
BEAM ME TO HELL, SCOTTY
Spock and Kirk enter the teleporter room. Scotty, so busy flirting with the gorgeous Nurse Oberon, a voluptuous green-skinned Orion, that he misses the entrance of the Captain; dressed as Men in Black FBI. Spock's disguise is a 21st century Trump fan, hilariously complete down to his pot belly and red MAGA hat.
"Captain on deck!" says Spock, annoyed at Scotty.
Scotty and Nurse Oberon snap to attention. "Captain, Mr. Spock, may I present Nurse Oberon. She's fluent in 21st century American."
"And why is that, Nurse Oberon?' says Kirk as he takes her slender green hand and shakes it a bit too long.
"I'm one quarter human. My grandmother was abducted from a Trump rally by the Orions for psychological study shortly after the completion of the wall," says Nurse Oberon, her siren voice naturally heart-melting.
"Ah yes, the famed wall with Mexico. One of Trump's few campaign promises he kept resulting in his reelection in 2020," notes Spock, oblivious to Nurse Oberon's charms.
"Not quite, Mr. Spock. It was Trump's second wall project, the one with Canada in 2022 where my Grandmother was taken," coos Nurse Oberbon, stunned she has no effect on the Vulcan.
"What precise phycological condition were the Orions seeking to understand in examining your grandmother?" says Spock dryly.
"Granny never wavered in her faith in Trump, despite his single handily triggering Word War III, the abolishment of the FBI, the end of a free press, the Great Depression of 2020, and over 100,000 fact checked lies he told while in office," says Nurse Oberon.
"An impressive record of Trump's laying waste to earth, but that still does not answer my question about why the Orions were interested in your grandmother," says Spock challengeningly.
"You see, the Orions sought to understand Trump's hold on my granny and thereby core Trump supporters who never wavered backing Trump even as all of America's major cities were turned to cinders, " coos Nurse Oberon reaching, takubg iand stroking Spock's Vulcan ears, "Oh, I can already see have to be very sharp with you, Mr. Sexy Ears,"
"Save it, Nurse Oberon. Spock is immune to your considerable charms," says Kirk.
"Captain, may I have a word with you in private?" says Spock.
"By all means," says Kirk, amused Nurse Oberon has shaken up the Vulcan.
Kirk and Spock step into the hallway as Nurse Oberon finishes applying flesh colored makeup to hide her green skin and pulls a frumpy dress over her Star Fleet uniform.
"Captain, I most uncomfortable about Nurse Oberon's selection for this away team."
"I see that, Spock," jokes Kirk.
"Jim, please take me seriously. Given the nurse's ancestry she is highly susceptible to the charms of Donald J. Trump," says Spock.
"My gut tells me she'll do just fine. Let's go. Trump only sleeps 4 hours a night," says Kirk, leading a reluctant Spock back into the teleporter room.
Spock steps onto the teleporter pad beside Nurse Oberon's and the Captain's pads.
Nurse Oberon complains, "Why must my silly old outfit be so dreadfully dull? Aren't my assets an asset for handling Trump?"
"Aye. Blame me, lass. The mission is too important to allow distractions for the Captain," jokes Scotty with a wink to the Captain.
The Vulcan examines his red Make America Great Again hat, "If we succeed, Captain. Perhaps America shall in fact be great again."
"It's all comes down to you, Spock. You must plant the fear within Trump's warped mind that a war with North Korea ends in his impeachment for abuse of war powers."
"Captain, I find it deeply disturbing that your ancestors saw fit to entrust your president, a single human, and in this case a highly unstable one, with the power to press a button and start a thermal nuclear war," observes Spock.
Kirk shrugs flirtatiously to Nurse Oberon and says to Scotty, "Energize."
Once the trio de-materealize Scotty pulls out a Grand Mac and takes a huge bite. He rolls his eyes in ecstasy.
"Damnit, Scotty.  Those things can kill a horse," says bones from the view screen.
"Aye, Doctor. But this horsey will die happy!"
TRUMP MIND MELD 
Kirk, Spock and Nurse Oberon silently materialize in a dark corner of Trump's bedroom.
The trios eyes go wide watching Trump stuff his face with a Grand Mac, all at once. Still, the president furiously tweets,"Wolff's book is just more fake….."
Kirk whispers, "Fire –".
Nurse Oberon stuns Trump mid tweet and he slumps to the bed, doing a face plant.
"Why did you stun Trump, Nurse Oberon?"
"You did say 'fire', Jim," says Spock.
"I was commenting that the book FIRE AND FURY that he's so angry about."
"Oopsie," says Nurse Oberon.
"It seems we are most cluster-fucked, Captain," groans Spock.
"Fucked is sufficient, Spock. Wish Trump had finished his tweet before Nurse Oberon stunned him." says Kirk.
"Not to worry, Captain. Trump was known to tweet erratically, sometimes not continuing a tweet for up to several hours. And of course there was the famed Covfefe tweet."
Nurse Oberon struggles to get the president onto his back and says, "The prez weighs a ton! He needs air! Help me turn him!"
"239 pounds my ass!" grunts Kirk helping turn Trump.
It takes all three of the away team to flip Trump onto his back. At which point he begins to choke on his Grand Mac.
"Help him, Spock!"
"Captain, if I may be so bold. Might not our mission be better completed if we do nothing?"
"No one would doubt death by Big Mac," says Nurse Oberon.
"Correction, Nurse Oberon.  Grand Mac. You McDonalds USA –"
"Spock. Knock off the tri-Mac story," grunts Kirk.
"Are you two always like this on away missions?" giggles Nurse Oberon.
Trump gags, eyes rolling into his orange face.
"Nurse, you do realize you are addressing two senior officers?" says Spock testily.
"Wait! I get it!" giggles Nurse Oberon.
"The only get I want to hear is let's get on with this mission," grumps Kirk.
"Don't you see it, Captain?  Spock is Gay for you!" shouts Nurse Oberon before Spock muffles her wild laugh with his free hand.
"I warned you of this Captain.  Nurse Oberon is already subconsciously working to, ahem, rescue Trump, says Spock. "I estimate if we let him go on choking Trump will expire in 60 seconds."
"Too big a hole in the timeline to let Trump meet his maker with Mac attack," says Kirk, watching Trump turning blue.
"Very well then, " say Spock as he yanks Trump into the Heimlich maneuver. Trump coughs his Grand Mac into Kirk's face and gasps for air.
"The Mac of any scale is indeed your nemesis, Captain."
"Stop stalling. Mind meld time, Mr. Spock."
The door handle jangles. Kirk points to Nurse Oberon, "You're on!"
Nurse Oberon pulls off her dress and climbs naked atop Trump just as Don Jr. enters.
"Kinky, Pops!  Love the green body paint, babe!  I leave you two love birds it!" says Don Jr. making a quick exit.
"Now, Spock, before First Lady Melania shows up!" says Kirk.
"My computations show there is only a one in 10,056.75 percent chance of that happening, sir. The two divorced just a few –"
Nurse Oberon and Kirk groan in unison, "Spock."
"Sorry. I shall begin then. Silence please. I wish to return from this meld with all my marbles I believe is the 21st century slang for –"
"SPOCK!" shout Kirk and Nurse Oberon in unison.
Spock places his fingers over Trump's head. "Sir!  It's real!"
"I am sure, Spock.  His mind must be a real sivv of larceny and deceit!"
"No, sir. I've not melded yet. His famed fake hair. It's real!" says Spock roughing up Trump orange hair. "Granted the orange color is not –"
"Spock, are you sure you are up for this mission?" says Nurse Oberon sweetly as she puts her dress back on.
Spock adjust his fingers over Trump's right temple,"My mind to your –" Spock winces in pain.
"What is it Spock?!" says Kirk.
"Trump… Much… difficulty…never encountered such… an unfocused… mind… Must go deeper…" say Trump and Spock in unison.
Nurse Oberon monitors the condition of both Trump and Spock.  She reports to Kirk, "Pulse rate up by 50% already! Call off the meld or we lose them both."
Spock and Trump speak as one,"Only focus seems to be… composing Tweets about Bannon the traitor… absolutely no thoughts on… matters of state."
"Go deeper, Spock.  There must be some way to reach Trump," says Kirk.
"Pulse rate up 77%!" reports Nurse Oberon.
Tears pour from Trump and Spock as they speak as one,"Daddy… why don't you love me?"
Inside the foggy mind of Trump, Spock watches as Fred Trump yanks young Donald's nose to a stack of money. "You see this pile of cash?"
"Um , yeah," says little Trump.
"Money is all that matters in life. Cash is king, you worthless brat!" shouts Fred Trump. Spock steps behind Fred Trump and does the Vulcan nerve pinch.  Fred Trump falls to floor and little Trump screams.
"Alien! You killed my daddy!" says little Trump.
"He's fine, young Donald, none of this is real. See I can make myself your age," says Spock shrinking himself to little Trump's size.
"Wait. I can read your mind! Cool!  Your name is Spock?" says Young Trump.
"Correct. Our minds are as one, Donnie." says Spock reassuringly.
"Spock.  Huh.  Crummy name.  I'll call you Spocko!  My turn to play the daddy game!" says Trump growing to adult size while Spock shrinks to kid-size.
The surroundings morph into Spock's childhood home on Vulcan. Sarek, Spock's father passes young Spock who is weeps in a hallway, "Tears? You're no Vulcan."
"Hey, big shot. Stop being so mean to my pal Spocko!" says Trump and blows a hole through Sarek with a sizzling phaser beam.  Sarek falls to the floor at young Spock's feet, a steaming mess.
Young Spock gawks at Donald Trump the hole in his dead father's chest. A begrudging smile steals of young Spock's face.
Meanwhile, back in the real world of Trump's presidential bedroom:
"Pulse rate 150%!" says Nurse Oberon to Kirk's glare. "Well… it is."
Kirk whispers in Trump's ear, "President Trump, history has given you a great responsibility. Billions will die if you continue to escalate –"
Trump and Spock shout in unison at Kirk, "You think I give a flying fuck what happens to the world? I have my fallout shelter all set up with all the champagne and broads a man could ever want! It's the greatest bomb shelter of all time. And anyone can join me down there for only $10 million a head."
"What's $10 million going to be worth when the world's a nuclear wasteland, Trump?" says Kirk yanking Trump to his face by his silk pajamas.
"A lot!  As the world population shrinks my market share gets even more biggly. I'm gonna live the lux life with the new Trump-acaplyse 24/7 reality show!" say Trump and Spock laughing madly in unison. "Bye bye Alec Baldwin, Stephen Colbert and all the other losers drafting off my fame!  Nuked!"
"Bones was right.. His mammoth narcissistic ego makes doomed this mission from the get-go. Abort the mind mend, Spock!" shouts Kirk directly into Spock's pointy ear.
No reaction from Trump and Spock, except a snide chuckle from the mind melded pair.
Spock breaks a sweat as he struggles to say, "Can't fight him, Captain. Trump is accessing… my memory of Star Fleet history."
Trump/Spock smirks at Kirk, "Cool, lotsa of inventions in this Vulcan skull I'll take credit for!"
Kirk shakes Spock by the shoulders and shouts in his face,"Fight him, Spock!"
Without warning Spock backhands Kirk and sends him flying into a gold gilded wall.
"Like that for fighting?  Haha! Sorry, Kirk, can't give you your first officer back. Spocko's Trump property now!" gloats Trump.
Kirk manages to stumble to his feet and says, "Nurse Oberon. Set Phaser to kill and execute Trump."
Nurser Oberon obeys the captain and takes aim at Trump.
"Baby, shoot Kirk and you're my new First Lady," says Spock and Trump in mind meld unison.
"What can I say I love a good three way?" Nurse Oberon switches her aim to Captain Kirk.
Screaming through the pain Spock miraculously breaks the mind meld and Vulcan nerve pinches the green goddess to dream land.
"Spock, you saved the day!" grins Kirk.
Faster than one could ever imagine for such a fat bastard, Trump picks up the Nurse's phaser and disintegrates Kirk.
"Jim!" weeps Spock.
"Fuck the smarmy asshole. With the 23rd century tech in your head we have a galaxy to conquer, Spocko!"
"Granny, I see what you saw!" shouts Nurse Oberon as she pulls Trump and Spock into bed.
"Hold on a sec you two,  Gotta grab a Viagra!" Trump paddles off the the bathroom stepping through Kirk's dust pile.
Unable to wait for Trump, Nurse Spock's pants down and her eyes go wide. "Mister Spock! You are most certainly not Gay!"
Spock sweeps Nurse Oberon onto his hips and she moans in ecstasy.
Out of sight in the bathroom Trump bellows, tossing tolietries through the doorway in a panic, "Damn you, Melania for hiding my Viagra again! #COCK BLOCKER!"
Spock and Oberson laugh quietly as they make love like it's the Pon Farr!
OUTTER RIM OF THE GALAXY
"Captain's Log, stardate 2264.2. The Enterprise is accelerating to time travel speed on a journey to the eve of World War III. All in the hopes of altering the timeline and averting the loss of billions of human lives."
We join Kirk in his cabin, feet propped up on his desk, dictating to the ship's computer.
"What the outcome of such a drastic timeline shift for our own time, the 23rd Century, is anyone's  –"
A knock on the cabin door stops Kirk's log dictation. Annoyed, he says, "Enter."
A troubled Spock steps through the pneumatic doorway. A fidgety Dr. McCoy right behind him.
Before McCoy can speak Kirk cuts him off, "Save it, Bones. I've decided Spock mind meld should be with Kim Jung-Un instead of Trump," says Kirk walking to his portal window.
"Well, hallelujah. What on earth made you come to your senses?" says McCoy with a
Kirk is as silent, gazing out the portal.
"Jim?" say Spock, forgetting rank in the confusion.
Kirk points at a massive asteroid with a laser inscription burned into it's side. Spock and Bones gawk, reading the phaser carved asteroid's mile high message:
WARNING! ABORT TRUMP MIND MELD! LOVE, SPOCK
End of This Clusterfuck Timeline
Update 3/6/18.: Could Kirk' & Spock's second mind meld mission be working?
Originally posted 1/5/18
 "FIRE AND FURY" SETS OFF TRUMP'S FIRE AND FURY
Already the #1 best-seller on Amazon before its original January 9th 2018 release, FIRE AND FURY, by Michael Wolff, is perhaps destined to be a historic book marking the beginning of the end for the Trump presidency.
The book released January 5th, four days ahead of schedule after Trump sought to block its release yesterday.  It sold out in less than 20 minutes after midnight at a DC bookstore where a line of eager politicos waited in the cold to be the first to own FIRE AND FURY.
Why am I so sure Trump is effectively finished as president? Two reasons.
One: Because Wolff had the full access of a Tom Yates level, an author character where art imitates life in HOUSE OF CARDS, to the reality show known as the Trump White House. What's particularly damning is that the Trump administration players' quotes that Wolff patiently gathered from Election Night through 2017, most notably profane gems from Steve Bannon, were captured on hundreds of hours of tape.
Two: I admit I am biased and I simply want this nightmare to be over. So I couldbe all wet on this.  I was furious election day.  I have disliked Trump dating back all the way to the 80s when I was something of a real estate mogul myself, building Oprah's Harpo and a $162 million skyscraper.
The deepest Bannon barb from the book describes the Trump Tower dumb as dirt meeting between the president's less than brilliant son Don Jr. and a group of Russians during the 2016 election campaign as "treasonous" and "unpatriotic."  Trump's reaction to Bannon's quotes in the book might have looked like this art.
My opinion as a filmmaker that's covered politics on film for over 20 years is that this tell-all of all tell-all books — compounded with the ever-widening Mueller Russia investigation — makes Trump a dead-as-a-cheeseburger-walking-president.
The history making book also recounts how Ivanka and Jared got drawn into all this by their aspiration for her to be America's first woman president one day. She's even quoted making fun of her father's disaster-waiting-to-happen comb over.
I do want add to my post here after finishing the book that it ends rather weakly.  It's almost two books and the ending reveals Wolff had more access to the toady Bannon than Trump. So what we have is dynamite first half a book, when Bannon was riding high, and Wolff had more access, followed by weaker second half where we see no deeper into Trump than a day looking at the news could give you.
LOOKING DEEPER THAN THE BOOK
"So what does all the Trump insanity and decadence mean on a spirit plane?" I ask my ET spirit guide Ohom.  But it's earthly spirit guide Robin Williams I first tune in on from the Pacific where he is a reincarnated female blue whale, "Told you Trump's presidency would be hilarious, Kenster!"
Ohom sighs deeply, answering my call for clarity, "Robin is right.  Keep a sense of humor about it all, Ken. Trump is symptom of deeper problems in your culture as a whole that his leaving office will not solve."
I telepathically answer Ohom, "Hard to swallow that when Trump is trying to provoke a war with North Korea to distract the people."
"Trump has fulfilled his purpose to expose the dumbing down of your country, rampant racism, sexism, a corrupt congress, corporatocracy and more. His work is done even if he still uses your insane legal system to tie up his dismissal  until the end of 2020.  Meanwhile, fulfill your mission. Keep sending him and he supporters love as you did at his inauguration," says Ohom, echoing in my mind with that cool reverb effect his inter-dimensional communication creates.
"I've been wondering why you sent us to Trump's swearing in, Ohom, " I say over the web here and in my mind with no small amount of annoyance, realizing this has been blocking my connection to Ohom of late.
"Same as I always tell you, Ken.  When you ask me over and over again. Hold a space of unconditional love in the midst of the field hate and rage. That's mastery," says Ohom sounding a bit more testy than I've ever heard him.
"Wait.  Hate and rage equals 'Fire and Fury.'" It's all starting to fit.  Sorry to be so dense. Ok, Ohom my new old/friend. I'll promise to keep holding a space of love that will help bring a peaceful end to Trump's hopefully short presidency.  Um, even though that's hard as hell at times."
My past life Hopi self, Laughing Skies, adds with a chuckle, "Hard? Why hard, Ken? Trump is simply a symbol of the dying energy of the old ways that destroyed my people," sounding quite amused at my difficulty mastering the chaos of the Trump shift.
"You won't be laughing if a desperate Trump starts a war with Kim Jung Un," I grump inwardly.
"Ha! Trump and Un are already as dead and one corpse cannot kill another," says the Hopi shaman I once was.
I decide I am not going to win this debate over Trump and all he represents, so I fully my consciousness return to this sunny January 4th 2018 at my trusty Mac.
Well, dear reader, I don't take comfort that Zombie stories did not exist in Laughing Skies' time 1000 years ago here in Sedona where many, besides me, thankfully meditate for peace in these troubled times. But here's to hoping my guides, cosmic and earthly, are right.
Posting some comic relief for Robin:
Originally Posted 12/17/18
LET'S GROW UP BEFORE IT'S TOO LATE
I lost a young friend yesterday to the rot of our society's cesspool of disinformation that swirls about Trump on the right that loves him and that hates him on the left. We must regain the center if we are to thrive as a nation.
Now, I knew in my heart things might end badly because I noted this promising young man loved Trump from the day we were introduced. But I chose love over fear in getting to know the young man because I saw a spark of genius in him.
Let's call him Bob for the rest of this blog.
What set Bob off yesterday was my expressing fears on FB that Trump has perhaps lost what little marbles he had before taking office. BTW, can you believe it's still not one year yet since the tweeter in chief has squeaked into office?
But I digress at Trump's agonizing slowing of time space. – Time is relative. For Trump lovers the first year must seem the joyous blink of an eye. – Bob was inflamed by my questioning Trump's sanity based his recent FBI hostility on my home FB page.
Later that same morning, after making the above self-serving tweet, minutes before heading off in shinny limo to speak at the FBI's National Academy, Trump blustered to the rattled press gathered on the White House lawn for god knows what stupid thing he might say, "It's a shame what's happened with the FBI" and claiming there are "a lot of very angry people that are seeing it."
The mere fact I noted on FB how Trump's erratic behavior towards the FBI might be evidence that president is showing sign of cracking up was to young Bob – who I've only treated with kindness and hosted in my home – grounds for his accusing me of being brainwashed by agreeing with the liberal media's assertion, what he called a "party line story", that Trump is increasingly becoming unglued.
Sorry, Bob, who unfriended me after I puzzled how, in private message, he could be so gung-ho about a racist. sexist wannabe dictator. I admit I goaded Bob into unfriending me because I wanted to shock him into seeing how blind he is about his blindness to the reality of Trump.  I regret doing that but I was frustrated that after nearly a year of Trump wrecking our republic in a multitude of ways; from pulling out of the Paris Accord to appointing a record dozen young inexperienced alt-right unqualified judges into our federal court system with lifetime spots we'll be stuck contending with for the next fifty years.
Trump has had lots of help from the a Republican Party taken over by the Tea Party crazies.  And with the help of GOP, shamefully endorsing a potential sex abuser for election, rubber stamping Trump is doing damage on taxation and the freedom of our internet.
And still… Bob had not moved an inch to the center.
Now, in fairness to him, Bob may have gotten the wrong impression that I was sympathetic to Trump because he was fan of the meditations I did in DC earlier this year with Elizabeth England at the Inauguration of Trump. In the meditations we set intentions for Trump to rise to becoming one of our greatest presidents. Ambitious indeed.  But intentional meditation is scientifically proven as a powerful force for good. However, before we even left DC to return to Sedona, Trump was proudly singing an executive order to trample on the rights of the Standing Rock tribe.
Trump is sadly for us all might be immune to elevating his consciousness. We were not the only planetary healers hoping for the best and seeing that hope die over 2017. It appears his greed, copious diet of McDonald's and paranoid anger to all who question keeps Trump on a low vibrational plane.  He has therefore chosen to be part of the old world of male white privilege decaying before our eyes on the basis of demographics alone.
It appears Bob confused my meditation intentions for Trump to rise to become a great president with the sad reality he's been a god awful leader who will take us into a nuclear war unless removed from office. His low approval ratings bear me out.
Yes, Bob, my Trump sanity fears, are all my own. Fears formulated with my own observations of Trump's tweets and quotes and a thing called my brain. And what I see in meditation are two reasons for Trump declining mental health.
One: Trump's fear over the Mueller investigation is causing him to fall into a rage filled depression and he is suffering a nervous breakdown.
Two: Trump is suffering from Alzheimer's or clogged brain arteries from his Ronald McDonald diet.
Besides his obvious FBI propaganda stunt to discredit the Mueller Russia probe, if we truly look we see in Trump's behavior there are many other signs that the tweeter in chief is in rocky shape. Take his slurred and or incoherent speech patterns, extreme rage displays to staff punctuated by twitter outbursts, delusions of grandeur and radical overeating. All symptoms any of us with an open ears, eyes and mind can observe for without the filter of media, left or right. It's an inescapable reality/horror show happening in real time.
What I find stunning is a fine young man like Bob is trying to actually make living as a journalist without a shred of objectivity. That's not journalism. That's being a mouthpiece for right-wing propaganda.
I meditated on this deeply and I am being totally honest with myself that I am not doing the same thing on the left as Bob. I am an independent who has voted as many times for the Republicans as Dems. Note I was no fan of Obama and his failed health care plan and back door dealings.
Back to Bob.  What is the magic of Trump's ability to bamboozle Bob and other Trump supporters to the point they will not make their own judgements about Trump themselves and buy his fake news BS? For the answer I refered back to the famed book ESCAPE FROM FREEDOM by Eric Fromm that I studied at Northwestern University in abnormal psychology class.
Shortly after World War Two Fromm wrote his book to psychoanalyze Hitler's rise to power. He writes of how all dictators share a common trait as possessing a vacuous souls. This vacuum of the heart makes dictators an empty screen we the people can project all the values we want to see in whoever is latest fearless leader.
And the reason we humans blindly do this over and over, not just with a Hitler, throughout history, according to Fromm is incredibly simple.  Fromm postulates that we as a species desperately want a father (note we've not had female dictator yet) who will gladly shoulder the burden of freedom and tell we babies what to think and do.
Looking on the bright side, the trick in meditating about dark things in dark times, is perhaps Trump at some point when the insanity grows worse will serve as the last straw that forces us to grow the hell up as species. We must rise to love our freedoms instead of seeking escapes in petty dictators. Bob, you, me, all of us, must learn to see disinformation on the left and right and to tune out media pundits of both persuasions.
Together let's stop blaming our money making niche media and look outside our little bubbles and find the center of our own conscious convictions in balance and harmony.
Let's grow up before it's too late.
Originally Posted 11/18/17
Humanity Seeks to Free Itself From a Conspiracy of Greed
I look back on the last clear mission before my ET Ohom spirit guide lost signal for months, to attend the Trump inauguration. The mission for my love Elizabeth and I was to simply hold a space of love in the crowd of his mostly white backers.
I still have no idea why the ET Ohom chose me for this work. You see, I've disliked Trump since the 80s for his cheater ways of getting ahead.
Any who, here's my attempt to integrate a message Ohom gave me today, where my flu delirium helped me reach him across the stars.  I share it to you as poem.  Excuse me if its not my usual positive thing but it's my way of taking Ohom's advice to embrace the…
CHAOS
The first inauguration I ever attended
Was over for me before it ended.
Why my ET guide sent me and my love here
Angered me as it felt dangerous and queer.
The first thing that stuck me about the crowd
Kinda small and not that loud.
Was – How white we all look
For this election of a crook.
My love and I locked in the white crowd filled with hate
Watch helpless as white robs power from black this fateful date.
Two white people with a consciences we share a field of love
All the while looking for ships, seeking help from above.
The crowd goes insane with white pride.
And I go dark and angry inside.
My space of love implodes like a collapsing star
A black hole born within white crowd I see as though from afar.
I am a fellow white co-conspirators in the age of greed.
Ignoring the oceans and earth's fellow creatures in need.
White privilege my lifelong invisible ally.
A white life blessed by abundance since birth.
Whites laugh as the black man hands over the power.
The sky opens in a light shower.
Tears from heaven dating back to slavery.
White power making all other races their knavery.
Atop the dais, black and white man shake hands
As the thrilled white crowd stands
With the white man who tormented the black eight years.
Along with his white peers
Without relent.
Fortunes spent.
To impede hope and change
As the black's mission was too strange.
Obama greyed and bent
Weary of the fight as president
Takes  his seat as Melania
Helps swear in her mania.
The white crowd cheers!
As their color takes center stage
Fists clenched in white rage
The black ordeal over at last
Free at last!  Free at last!
America' is a swamp the scoundrel says
As though swamps are not his gator ways
Already taking all the credit for the economy's surge
He seeks black accomplishments to purge.
Destroying all Obama has done his only urge.
"And now it will be America first!"
As though it's not already been so.
As if we whites didn't already know.
Since the white man stole Turtle Island from its true peoples.
Sprinkling their land with our white church steeples.
Killing their buffalo of the prairies
Angering all of earth's fairies.
I stand honest in cheering crowd and feel the blame.
I feel it now as write about my white shame
Feeling fully white little me raised by a family of bigots
Secretly rejoicing as Trump waves to we happy white idiots.
We white fools who have elected a man incapable of vision.
Who thrives on hate and racial derision.
Who prefers to eat Big Macs
Fearless of heart attacks.
Like the one that just killed my little brother
Who disrespects the mother.
Who treats women like dirt
While ingesting tic tacs to flirt.
A year has passed since his election sought to smother
The America Dream I always idolized.
The only hope I cling to now as I write persisted.
An ET message from a far off world.
"Humanity seeks to free itself
From a conspiracy of greed.
Embrace the chaos."
And so I try and fail this gloomy November day.
These hard time are like a nail
Holding me earthbound
As the world dissolves around me.
Watching humanity's fall.
This is what chaos looks like.
Bitterness is what chaos tastes like.
One day the white mans reign will end.
On this we can depend.
Because it cannot be sustained
The ET message of hope in me remained
"Humanity seeks to free itself
From a conspiracy of greed.
Embrace the chaos."
Originally Posted 10/17/17
THOUGHTS ON THE LIFESPANS OF MAYFLIES, DOGS, HUMANS AND REDWOODS
These thoughts on life's brevity and its fragile nature yet beauty were written a few hours before the tragedy in Vegas. Already they feel like words from another era, another me.  Nonetheless I offer this blog with prayers for the lost and wounded at the concert last night as we must accept in our crazy times that we must live each day with as much love and light as possible, no matter what fate has in store for us.
OCTOBER 1, 2017
Our neighbor Paul, a gregarious man with a beard Santa would envy, dropped by today while I was weeding the backyard, that grew wild while I traveled two months out three this summer showing our new Antarctica meditations film across the southwest with my love and partner in all things Elizabeth. Well, it was more like Paul was dragged here by his big dog that outweighs the thin as rail scrappy 70-something.
The former trail guide Paul's adorable German Shepard, Julie, who I learned is eight years old, gave Elizabeth and me both kisses and presented  herself for hugs. Paul gave welcome advice for packing for our upcoming hike into Havasu Falls in the Grand Canyon this week. He suggested 25 pounds max weight for us each. His assurance I could make the hike calmed Elizabeth who has been worried sick about my being in good enough shape to make it to the blue green waters.
As I watched my teenage, by human years, Lincoln and the frisky 56-year-old, by human years, Julie work on lifting Lincoln's play skills, I thought about my 65th birthday last week. How weird a thing age is.  Turning 65 means now magically means I am on the same great Medicare coverage Bernie Sanders is tilting at windmills for us all.
It makes no sense to me as I pondered, while Julie snuck into the house to steal Lincoln's bones, that my arbitrary birthdate, which some bureaucrat decided made me insurable with Medicare, while Elizabeth is stuck on Obamacare. BTW, I have to thank Elizabeth, an expert in Medicare, for guiding me to the best coverage in the complex decision making process that would puzzle most lawyers for its complexity of choice.
I dislike Trump for his huge ego and mean heart, have since the 80s. My spirit guide Ohom has said he'll have an awakening to higher consciousness while in office.  But I grow weary of the wait after three hurricanes have had no impact on his stubborn ego.
But the Trumpster is right for once, Obamacare is not a good thing for enough people. Certainly not for me. I got un-Affordable health care quote of $400 a month with a $5000 deductible only 50% coverage and no pharma plan. Pass!  Now under Medicare I am covered 100% for about $300 a month for all drugs and medical with a $180 dedcutible. That's more like it!
Unfortunately, Trump has no real plan to replace Obamacare with something better once he repeals it. He simply hates Obama and is out to ruin anything the black man did out of spite and simmering racism.
Enter Bernie to the rescue.
I love Bernie's plan of Medicare for everyone, much as it's not going to have the votes. But there's hope it will pass after a sweep of the Tea Party candidates ruining the Republican party beside ineffective Dems in the 2018 elections. We need to get to the center again as a nation.
I shook off the odd feeling of siding with Trump and Bernie at the same time that was enough to make me feel like my head might explode. So I turned me thoughts to our dogs living 7 times faster a life than we.  Putting my consciousness into the dogs POV, as they sniffed the yard hunting for lizards, I could see we humans seem to move through time in slow motion in comparison to them. It was groovy to visualize they do not suffer any feeling of a shorter life anymore than we feel cheated that Redwoods live thousands of years longer than we do.
Then I thought of Mayflies who live only a few hours once they emerge from the water.  I checked in and yes, same for them.  A lifetime is measured in a few hours feels as long as our own. By comparison to a mayfly, I thought, smiling up to take in the deep blue Sedona sky, I am redwood tree in lifespan.
One day I will outlive little Lincoln as I have many pets in my life. But it's nice to realize our little doggie does not feel his life is short. Indeed, his life is like Einstein's theory of relativity in doggie form.
Then I thought how good it is to be so vibrant and healthy at 65, fit enough to take on the Grand Canyon at an age when my grandmother was in the nursing home. After all, when I saw the Dreamshield in 2010 I was told I will live to well over 100, as some have in my family, to continue to help usher in the new age .
And now that longer life I am to have is blessed with the best mate of my life and should I be injured I now have the insurance Bernie dreams of for us all. Fingers crossed he pulls it off a miracle. It will be like he won the elections after all as he should have in the first place.
Originally Posted 9/16/17
What the Heck Age is It Anyway? Thoughts on the Fracturing New Age Movement and Doreen Virtue
Wait a minute.  Isn't this supposed to be the Age of Aquarius instead of the Eve of the Trumpocalypse? Where's the freaking Golden Age we started hearing about in the 1960s?
As Ricky used to say to his redhead wife back in the 60s, "Lucy, wha' happened?!"
Fear happened. The people behind the curtains really know fear and how to wield it to maintain the status quo. Or as what's happening now, send humanity backwards.
Indeed, the 1/10th of 1% hit pay dirt with liberals and conservatives in America fearing each other like enemies with the election of Donald Trump. In one fell swoop the fear mongers, via real fake news, divided white families and friends from one another like we have not seen since the time of the Civil War. A war that killed 620,000 Americans.
The fractionalization of the New Age can also also be seen in Flat Earth Movement. Startling when I first heard of it a few months ago, the belief earth is flat further fractionalizes the small New Age community. Indeed, how can we solve global warming if we can't first agree we all live on a globe?
I work in social media as my day job and I am not enjoying my work these days. The toxicity of flame wars fueled by Russian, liberal and conservative trolls, paid and unpaid, has poisoned the web with fear. So can you blame people for being fearful and freaked out when you read headlines like this one from VOX?
North Korea: the US should be "beaten to death like a rabid dog"
Now, North Korea has been making inflammatory remarks like this for decades. But what's changed is their tiny mind controlled nation is making solid advances on missiles capable of reaching the US.
On top of this our collective fears are exacerbated by our impetuous new leader Donald Trump with his orange finger on the trigger and penchant for name calling on Twitter to attempt to distract from the Mueller investigation on Russian election interference. The effect of all this fear based insanity on America in general and New Age community in particular is, in a word,: depression. This is affecting conscious events with apathetic turnouts and the outright rejection of New Age values.
Prime example: witness the re-conversion to Christianity of Doreen Virtu. As a famed New Age channeler, tarot card designer and reader and author of 50 books, her rejection of her own work has broken the hearts of many of her New Age fans and students.
But don't be too hard on Doreen. Like many losing heart that no real new age has in fact emerged from the aging New Age movement she's fallen back to the comfort of her early faith. The comfort of being told what to believe is right and wrong from authority figures in crazy times can tempt any of us to retreat to the old ways.
Ah I hear many of you. What about cool New Age stuff like Burning Man? Sorry, burners. Burning Man has gotten into a rut too. Some Burners are in their 70s now and the event has grown more commercial and like a self parody. It's time for Burning Man's ideas of a cashless society of art and grace to leave the desert and make their way into the mainstream.
Wrapping up, my feeling is this: All the old ways are dying and that includes all faiths plus the New Age quilt of beliefs. So jumping ship now is pointless as we are awaiting something totally new that centers around an end to all polarity and fear. Hang in there.  The new era, pointless to name it until it fully emerges from the current chaos, is already growing up beneath our feet, as my love and visionary partner Elizabeth has seen.
Yes, it's painful to watch the old dissolve and struggle to stay alive before our eyes; to lose stars like Doreen from the New Age field at such a scary time. But know in your heart the new is in fact coming. I was told on my way back from the Antarctica meditations by my ET spirit guide that the shift would take 50 years to fully be entrenched. And we're a long way 2062. Be patient.
For now focus your intention on the good you want to see in the new in your meditations. And start with your own world the world you want. Find love and live life to fullest and freest. Never give into fear and keep moving forward!
See our 24 Quantum Intentional Meditations visualizing a better tomorrow here.
Originally Posted 9/5/17
FRIENDS AND FAMILY MORE IMPORTANT THAN POLITICS
Scratching your head on why Trump is still going strong as he is? Blame our mass media for being not so much as fake as seriously failing to present both sides. If you watch only mainstream media and comedy you really know very little of what he's doing.
Not all Trump believers are racist idiots. I know this firsthand through my amazing Trump fan friends. Take some comfort Trump was elected to do a job of disrupting the status quo by his loyal fans, many of whom are your family and friends. They have not suddenly grown tails and horns. Don't let yourself be polarized.
Many of his brighter backers are overlooking Trump's obvious tendencies to racism and misogamy for a higher purpose of a badly needed reboot and freeing us from the deep state. Yeah, and it's not a pretty sight how he's going about it. He swims in uncharted waters.
Have some faith this is all going to work out without letting all this hoo ha that about selling soap rob your soul peace.
Extremism left or right is not healthy. Seek balance in all things.
As for me? Well, I've disliked Trump since the 1980s for his massive ego. That won't change for me. But that does not mean I still can't send intentions in the cosmic field he'll wake up or love my friends who still back him.
Find the center in meditation: coolestmeditationever.com
Originally Posted 4/25/17
TRUMP'S MEDIA ECLIPSE
During the turbulent Nixon era we really only had one comedian giving us political humor; Johnny Carson. Johnny was the pioneer in this art of taking the days headlines and mining them for laughs.
Leno followed in Johnny's political humor footsteps along with Letterman. But political comedy would come to full bloom under the great Jon Stewart.
My spirit guide Robin Williams told me during the elections that a Trump presidency would be "hilarious."  Indeed, the epic comic turned blue whale in his next life as I have channeled, was right. Under Trump the political humor has been hilarious from Steven Colbert, Seth Meyers, Jimmy Kimmel, Bill Maher, Samantha Bee, Trevor Noah, John Oliver, Conan O'Brien, Alec Baldwin, Jimmy Fallon, James Corden and more up and comers. But the joke of Trump is getting very old very fast. Overexposure is a law of reality.
Looking deeper to my Trump rubber necking, add the 24/7 news channels, like FOX, CNN and MSNBC that did not exists in Nixon times, the talk shows like the View.  Next add that media is now within my pockets via my cell phone 24/7.
Last, add in social media feeding on itself with Tweets and retweets, FB posts, YouTube pundits right and left where I have my day job for BuzzBroz.com, my social media company and I see it:
MEDIA ECLIPSE!
What's amazing, love him or hate him, is Trump's uncanny ability to eclipse so much of the 24/7 coverage in this ever expanding media world. Now, I don't know about you, but I sure need a break.  I am trying to screen and limit Trump overexposure consciously to 30 minutes per day.  That's still an incredible amount of my day but I was losing hours of work time in the Trump field.
For me my big tension release has been meditation. Back at the start of 2017 my spirit guide Ohom, an ET thought traveler from Nektar, asked me to go the inauguration with my partner Elizabeth transmute fear to love we did it. But since that difficult meditation mission I have to admit I've lost my inner place in the Trump fog.
It's not Ohom's fault, certainly also not Elizabeth's, I've been sucked into the Trump vortex. The blue Orion never asked me to do more than the spirit work of that one day as regards to one Donald J Trump, which Elizabeth and I did gratefully and with great success. You can see for yourself on our playlist.
https://www.youtube.com/playlist…
No, it's been my own dislike of Trump dating back to our being peers of a kind in commercial real estate that's really sucked me in combined with the hypnotic pull seeing the latest stunt he's pulled thrown in my face 24/7.
Time for me to step away from Trump's train presidency that polarizing our country. The worldwide media machine profiting off Trump at the expense of real news has the mogul abundantly covered. I step back now to assess if I want to go further with a feature documentary on our LOVE TRUMPS HATE theme we devised for the inauguration. But I will no longer use that film project as excuse for Trump binge watching.
Now that I've properly analyzed why I've gotten so caught up on all things Trump, a potent combination of my past history of dislike of Trump dating to the 80s, hyperactive media and a hyperbolic president, I am looking forward to returning to my regularly planetary meditations. I seek to do more earthly healing and regain my inner peace.
LOW VIBE TRUMP
Relax, Trump, a master troll, is really not as big as deal as he'd like us think. He, like Obama and Bush, are beholden to the deep state for his marching orders. Witness Trump's recent flip flop on Afghanistan for recent proof. In reality Trump's simply the #distractorinchief, keeping us away from paying attention to local news and events while the bad guys rake in the chips.
I will continue to keep a bit of an eye on Donald's presence in our field.  How can't I with the coverage he gets. But I will do so without sampling the ever expanding variety comedy and news takes on his work.
I hope my meditations on this Trump obsession helps you break free of the Trump vortex too. Keep meditating with us at CoolestMeditationEver.com.
Johnny, I miss you and those sweet simpler times of my youth.
Originally Posted 8/23/17
ON THE ROAD WITH DONALD TRUMP
My partner in love and life Elizabeth England and I have been on the road the majority of our lives since May. We're touring our film THE COOLEST MEDITATION EVER: ANTARCTICA 12.12.12 (CME), already online at DoPenguinsMeditate.com and available as a DVD on Amazon.
We call the tour 'Movie and a Meditation.' We are the first filmmakers, as far as we know, to combine a movie with a live guided meditation. We must be doing something right because I am pleased to see we already have some copy cats starting to do it also. Movies have always been a meditation for me–a place where I can let go of current reality and imagine being the hero of a film.  So cool to be the hero of this film and share how Antarctica brought my love Elizabeth into my life.
After a very typical Q&A about this very untypical film (about meditations guided by highly evolved thought-traveling ET energies who sent me to Antarctica in 2012 amidst the hype of the end of the Mayan calendar), Elizabeth, a talented Kirtan performer, yogini and meditation expert in her own right, leads a live planetary healing meditation.
So far we've brought our 'Movie and a Meditation' events to:
Sedona, AZ
Las Vegas, NV
The OC, CA
Desert Hot Springs, CA
Santa Fe, NM
Boulder, CO
We met amazing people on the journey like famed sonic healers and authors Jonathan and Andi Goldman, who co-hosted our Boulder Colorado premier on August 1st. We were blessed to have the Et toning team of Anara Whitebear and Chris Katsaropoulos, our Durango pals, on board to open the energies of the night.
The hit Boulder premiere was held at the prestigious Etown theater. We opened with a Kombucha and cheese reception that Elizabeth, who worked for Martha Stuart for 3 years, pulled off to perfection.
On the road same time as our sweet little movie and meditation event, strangely running for a 2020 reelection none of us want to think about yet, was Donald John Trump. To stay in the media spotlight his ego demands, Trump is going further and further into using fear and anger. And so we found ourselves doing meditations to counter fears of nuclear war with North Korea Trump fomented on Twitter and the hate he rankled into the consciousness with his "many sides" stance on Charlottesville.
Unlike Trump, we don't have a private jet or a vast PR machine to blast ourselves into the mass consciousness.  We use our meditations and little events to reach the masses.  A slower and gentler process, it's nonetheless powerful.
Elizabeth and I, now plus our nervous rescue dog Lincoln, who does not tolerate pet sitters well, traveled along with us in our 2011 Jeep Wrangler. We just cracked 108,000 miles on the odometer thanks to the 10,000 miles we've put on the dependable Jeep since May showing our film.
Our crowds, compared to Trump's, are tiny, maxing out at 100+ . Raising consciousness in this time of dumbing down is not easy. It's always better to light a candle than curse the darkness.
Speaking of darkness, at the ill-advised Phoenix rally last night, day one post-eclipse and drawing big crowds from the right and left, Trump was consumed by defending his racist rollercoaster ride of reactions to the Charlottesville tragedy. The enemy in all this?  Not the Nazis, the press, according to Trump.  Well, as a man I voted for, Ronald Reagan once said in debate, "There he goes again."  And there I went again with 24 hours of meditations to set intention for the Phoenix event to pass without the loss of another life.
And it happened. Some skirmishes but no deaths in the face of president ignoring the wishes of mayor concerned for his city with a 40% Hispanic population. I am proud to say I feel we helped. Meditation has been proven scientifically to reduce crime and violence in major studies.
Our movie and meditation and web work, we are proud to say, is all about love and the belief that all of us make a difference in the field of consciousness.  How ironic that a film about the possibility, however 'far out' as we acknowledge in the film, of an ET-thought-traveler who is helped humanity by guiding our meditations in Antarctica and beyond,  is more real and sincere than our current president's script.
Originally Posted 7/23/17
COSMIC TRUMP
My blue ET spirit guide Ohom keeps repeating the challenge of Trump presidency is one of mastery in transmuting fear to love.
From Webster:
Definition of mastery
1a:  the authority of a master:dominionb:  the upper hand in a contest or competition :superiority, ascendancy

2a:  possession or display of great skill or technique :  skill or knowledge that makes one master of a subject :  command
It's impossible to imagine our species as a global consciousness could ask for any greater challenge than shifting the angst that Trump is dredging up in our hearts and souls, be we conservative or liberal, to love.
Yes, make no mistake, even the most devoted Trump fan harbors fear ranging from mild angst he will not live up to his promises to crippling fear their vote may destroy the earth for their children.
Speaking of mastery, just this week Trump broke a taboo by giving a political speech to the Boy Scouts. Now, as a former Boy Scout myself, one too rebellious to ever make Eagle, I was outraged.  Funny, I did not think Trump could still trigger me so deeply.
Honestly, looking deep into my heart, I see I am on a spirit journey of mastering fear. Fear Trump seeks to spawn over a youth movement, like Hitler did, turning child against parent!  Yeah, I know, over the top. Perhaps in reality Trump simply spoke as an old man too inflexible to rewrite his typical rally speech to properly suit his kid audience.
BLUE WHALE POV
Whereas my female blue whale friend a reincarnated-Robin Willians-spirit-guide, says Trump's presidency will truly be a hilarious release from fear.
From Webster:
Definition of hilarious
:  marked by or causing hilarity:  extremely funny
Stephen Colbert has risen to dizzying heights fueled by the firey fears many of us have over our unintentionally hilarious president.
My thoughts today is Trump's role in a universe, inflating like his ego, is cosmic.
From Webster:
Definition of cosmic
1a:  of or relating to the cosmos, the extraterrestrial vastness, or the universe in contrast to the earth alone cosmic radiationb:  of, relating to, or concerned with abstract spiritual or metaphysical (see metaphysical 2) ideas cosmic wisdom

2:  characterized by greatness especially in extent, intensity, or          comprehensiveness acosmic thinkera book of cosmic significance.
I've traveled around the sun 64 times in this human form.  And I've never seen a bigger cosmic storm for transformation brewing than Trump represents.  He drives me to hilarious cosmic mastery daily as a challenge beyond measure to stay solidly in a place of love over fear.
Bonus: Here's a great video called WHY TRUMP? Already one of my working titles if I can ever master my fears of Trump and make feature doc about all the love transformation that's coming on like a mega-tsunami!.
Originally Posted 7/11/17
Meditations on Our Trumpy Times
To give you some idea how challenging meditations on these Trumpy times is for me to be cool about, let's look all the way back to the 80s. Then I was an ego-driven real estate mogul myself, having transacted over a billion dollars in broker deals, built a $162 million skyscraper, leased 3 skyscrapers and won the Chicago Sun-Times developer of the year in '91 with the development of the beloved Oprah's Harpo Studios.
At that heady time, when I still had a full head of hair, I already disliked Trump. His name plastered on everything he did. His book THE ART OF THE STEAL (in 2105 we'd learn it was ghost written) bragging about his hardball business tactics were totally vulgar to  humble Midwest origins. You see, I come from a blue-collar family. While Trump was born with $100 million liquid cash advantage over me. He has nothing to brag about as far as I am concerned with that head start. But brag he does reminding you of how rich and smart he is at every turn.
And my dislike of Trump was already in full bloom before Trump's string of bankruptcies that resulted in a lot of regular Joes getting stiffed and his "sad" show THE APPRENTICE.
I didn't think it possible, but Trump became even more dislikable to me from his dirty 2015-2016 campaign. Throwing his fellow Republicans under the bus, which he mercilessly name-called on his way to his Crooked Hillary phase of the campaign.
So when Trump unexpectedly triumphed on election night I was in shock like the rest of the planet. This despite the fact both Elizabeth and I abstained form voting. Neither Hillary, and her corrupt old-school ways, or Trump the wild card ego maniac held any appeal. Plus, I'd like to think we are both awake enough in the shift to realize politics are the ultimate Fake News while the coporatacracy robs us blind.
Meditation has soothed the seas of my stormy childhood, but all the rage of losing a fortune in the real estate crash of 1991, where I played it clean and gently to make sure all vendors were treated fairly, unlike Trump did screwing so many in his bankruptcies, simmered all night.
On my morning hike the day after the election of President-Elect Trump, Elizabeth was shaken but nonetheless ready to move on with life. But me, Mr. Coolest Meditation Ever? I exploded like a tsunami. I bellowed into the morning sky…
My angry ego swelled to meet with Trump's in the powerful Sedona energy field, world famed for absorbing negativity. But, holy crap, I was such a raging grouch about Trump's win! I ranted top of my lungs, wondering who he could win without the popular vote like Bush did in 2000? All this after he called on Russia to hack Hillary's emails in a debate? Why wasn't he in jail for asking foreign power Russia to interfere with our elections instead of the winner?
Oh, right.  Trump later said he was only kidding about Russian hacking help! Yep. Almost as funny as yelling FIRE! in crowded movie theater. Totally illegal by the way.
I was so unhinged in my Trump explosion that Elizabeth, a 17-year military vet left me to my Trump venting for a few hours, seeking a dear friend's solace. Elizabeth wondered where had her sweet meditating man had vanished to, leaving a Trump-hater in his place?
A few hours later, when Elizabeth came home I had managed to settled down to the point of rationality. After all Hillary could have been worse we said to each other, with her mastery of the backroom politics and hawkish ways.
I shared with Elizabeth that my spirit friend Robin Williams predicted that Trump's presidency would be "Hilarious!"  Six months of the craziest presidency ever Robin has been proven correct, with a new comedic Renaissance to keep the masses sedated.
I spent the next several days fitfully scouring of the net for answers. All I found were sour grapes from a liberal media, and endless comedy videos were of little to no comfort.  Then one night about 3AM I turned to my spirit guide Ohom for some advice. He had brought me Elizabeth as my perfect mate on such advice before.  After a short meditation, the ET thought traveler spoke to me calmly about the Trump energy that was destroying my peace of mind and that of billions others around the world.
Now, since my ET long-distance telepathic connection began 2010 and I began making films and blogging about it all, I know how nutty this all sounds to someone new to spirit work.  But having a spirit guide like Ohom is quite ordinary in the conscious community. Indeed, quantum physics is proving how connected the universe really is.  Distance is not as big an object as we've been led to believe. Real or imagined, and I always acknowledge my creative brain could be making ohom up, this guide's spirit advice is nonetheless always wise.
In fact I believe in Ohom's cosmic advice most of the time I followed his advice to perform the 24 meditations in Antarctica back in 2012.
At the end of our telepathic space chat Ohom whispered his Trump idea his usual succinct way that I suspect saves on brain bandwidth, "Ken, it would be great if you and Elizabeth went to Trump's inauguration and held a space to shift fear to love."
"What?!" was my telepathic reaction.
Ohom remained unshakable. "Ken, it would be great for –"
"I heard you the first time, Ohom.  Look, if you are, as you've told me on many an occasions, my higher self, with all due respect… WTF?"
"I have another planet to tend to I must go. Please consider the Trump mission," said Ohom as I felt him break our connection. Looking back as I write he likely was abrupt for not wanting to be tainted by my negative attitude.
Sensing my restlessness Elizabeth turned to me in bed and said in a sleepy voice, "What's up, Ken?"
"Ohom was just here."
"And?"
"He wants us to go to DC for the Trump inauguration and meditate fear to love," I said drowsily, sleep already overtaking me.
Elizabeth sat up in bed and said in wonder, "That's brilliant.  Let's do it!"
"Trump's not worth it."
"It's not for Trump. It's for humaity," Elizabeth said while making a quick trip to the bathroom.
As she hopped back into bed and snuggled beside me, I muttered, "But Ohom told me last year when Trump and Hillary were neck and neck that whoever won they were going to have an awakening in office.  So maybe this meditation triggers that for Trump." I realize in retrospect the whole awakening aspect was me rationalizing a mission I did not want to accept.
"Doesn't matter in either case. Let's just walk into that DC minefield with love in our heart. No fear," said Elizabeth kissing me, then turning over to go back to sleep.
It was a fitful rest of night's sleep for me. Filled with dreams of Trump fanatics hassling Elizabeth and me at the inauguration. But through these bad dreams all I began to see how filled with fear I was, still am, about Trump. I realize now that these meditations Ohom was asking were mainly for reducing my personal fear and anger.
Over breakfast Elizabeth and I agreed, having both slept on it, that Ohom's idea was cool. Elizabeth scored inauguration got tickets from our Democratic AZ congressman, who was boycotting Trump's big day. And soon we became part of Trump's "record breaking" inauguration crowd.
Contrary to much of the mass media's Fake Fears, no riots were going on in DC.  Soon we had done as Ohom asked us to do, holding a space of shifting fears, deep in the midst of a Trump crowd shouting boos anytime the cameras shifted to a Democrats. And "Lock her up!" whenever Hillary appeared on the Jumbotrons. Of course,Michelle and Obama drew the biggest boos despite a peaceful transition of power of their hero Trump.
We were glad to be done with the hardest meditations, either of us has ever done, or likely will ever do.  We're honored Ohom felt we were up to the task and we each felt divinely protected. But we were so exhausted we fell asleep on the subway back to our place. In fact, we did not wake up to the end of the line on the opposite side of DC from where we were staying.
Yes, we knew were participating in the shortest lived presidential honeymoon in US history. Because in less than 24 hours later we returned to DC to film The Woman's Day protest against the Trump presidency. And it was HUGE as Trump would say.
We were inspired to contrast back to back days with the video OBSERVATIONS IN POLARITY.
To us the passionate protest crowds looked to be twice the size that attended Trump's big day. Soon the world met Sean Spicer and we were all stunned by his hateful way of dealing with the press for simply reporting the facts of crowd size via the numbers from the National Park Service.  "Fake News" was the Trump tweet-war-cry.
Thus began the delusion field of the Orwellian presidency. 1+1 now equalled three. And that's where we still are with the new Donald Trump Jr. and the ever growing "nothing to see here folks" meeting with Russia.
Under my repeated questioning of this difficult work that feels like meditations on a hurricane of negative energy with new revelations daily, Ohom simply repeats with infinite patience, "Shift fear to love."
Peace.
Originally Posted 4/28/17
Meditating for a Peaceful Day 100
It's not been my favorite CoolestMeditationEver.com mission. When my spirit guide Ohom suggested Elizabeth and I go to Washington DC for the inauguration and shift fear to love I almost said no. Well, if I'm honest, "NO WAY!"
But Elizabeth was more up for it than I was when I told her about Ohom's mission. And so we went, with only 2 weeks to prep and filmed and meditated in the energy field of our newly minted prez.
I'd hoped when we got home that would be the end of the mission but Ohom guided me that it was beneficial to the planet that Elizabeth and I keep a close eye on what Trump was up to and hold that space of fear to love during his first 100 days.
It's been hard not to go into fear and staying in an empowered state of love as Trump's presidency is practically a new train wreck a day.
Tomorrow is day 100, which I hope he spends as the golfing-est president ever.
Stay in your empowered space of love and visualize the future you want for day 100 and beyond. Meditation makes a difference.
Support us at CoolestMeditationEver.com and get incredible perks!
Originally Posted 3/30/17
Reality, You're Fired!
What does one say about a reality star that refuses to face reality? When he was running and visualizing victory by saying, "When I am president…" I took it as good positive thinking, ala THE SECRET.  But then on day one his presidency Trump went straight off then reality rails by imagining his crowd size for the inauguration to be greater than anyone in history and I knew we were in deep do-do.
Not even side by side photos from the National Park Service convinced him he was not loved by the masses. Left is Obama's 2009 inauguration, right is Trump's.
Winning the election was not enough for Trump's massive ego issue.  He has to be #1.  Ironically, he now enjoys the lowest rated president in history.
But fear not. His lack of respect for reality will end up being food for the spin doctors and comedians.  I can see it now, Sean Spicer takes the podium to explain how brave Trump is to suffer low approvals to fight for the little guy.
Reality, you're fired.
Originally Posted 3/16/17
THE TRUMP ADMINISTRATION: TOUGH TO LOVE
On just his second day in office, before our two person meditation team even left Washington DC, Trump signed an executive order resuming work on both the Keystone and Dakota Access oil pipelines. He did so without so much as a mention of the Standing Rock Sioux Tribe at a North Dakota site whose lands and waters may become forever poisoned by this decision.
As backers of the water protectors, we at CoolestMeditationEver.com are outraged Trump began his presidency in such a disrespectful fashion. Despite all our good wishes for his becoming a successful president in attending his inauguration, our meditation team was thrown for a loop by his support of the oil industry over treaty law.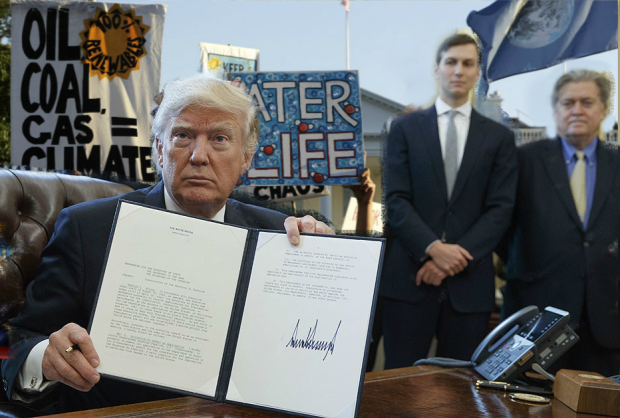 We sought cosmic guidance in many meditations upon our return to our base in Sedona Arizona. Still, our spirit guidance remained clear — transmute fear centering around Trump, a thin-skinned man with his finger on the nuclear trigger, to love. We were reminded daily by spirit, during Trump Twitter fits and his Muslim ban, that this transmutation is ALL we are to do through Trump's first 100 days, daily, and then intermittently for his entire presidency.
No matter how distasteful and scary we sometimes find the meditation work to offset this man's potent energy, even when he seems at times unhinged, we must and will carry on. Your support with both your donations and in spirit joining in the intention to shift fear to love is so appreciated and far more important than you can know.
It's been explained to us by our spirit guides that the USA as the #1 consumer and polluting nation–an invisible empire fueled by corporate greed, lust for oil and war–must be shifted to the light if humanity is to survive.
We must surrender to the fact that, for however how long he lasts in office, the universe selected Donald J Trump to be exactly where he is currently — stirring the pot.  Indeed, in the face of so many bizarre lies from the Trump administration, including a flat out effort to curtail if not eradicate the free press–a valuable freedom ever with all it's faults–we are seeing a renaissance of protesting and activism. For in every action there is an equal an opposite reaction.
However unpleasant and painful Trump's time in office is to we who love mother earth and all her creatures great and small on this precious blue world, we must hold the space that LOVE TRUMPS HATE.
Deep thanks to all who have been contributing to our Indiegogo that has paid for the trip to DC and our initial filming. Our next phase of the work is to interview conscious leaders about how to cope with the fear field Trump engenders and to meditate for solutions.
Please contribute yourself if you like what we are doing to bring hope to a hopeless seeming situation at LOVE TRUMPS HATE. 3 days left of the campaign as of this posting!
Originally Posted 1/18/17
AN INAUGURATION OF LOVE
A million people will be in D.C. for the inauguration–all carrying strong and polarized emotional energy–creating a powerful fluid field of energy for seeding 24 intentions for quantum change. The extreme polarization of liberals versus conservatives from the contentious 2015-2016 election cycle show no signs of abating. It's time for an 'Inauguration of Love.'
Right now the Trump presidency looks hopeless to most liberals–fears are running wild of attack on, or neglect of civil rights and the environment, and anxiety about looting or warmongering by a cabinet of detached billionaires.  While many conservatives are elated, many are worried their world of 'business as usual' has been turned upside down by the brash Trump and his Tweets.
Love him or hate him, Trump is about to be our 58th president. Let's choose love over hate. And do so with a sense of humor.
Get cool perks and support the new film at THE INAUGURATION MEDITATION.
Originally Posted 11/8/16
Congratulations President Trump and President Hillary
My ET spirit guide Ohom said to me months ago, here on my blog, it did not matter who wins the election, Trump or Hillary. I took it to be a hopeless statement from the usually optimistic Ohom.
But Ohom revealed to me just last week what he really meant by it not mattering  who wins tonight — and in this universe it's looking like Trump — is quite positive! A lot awakening is coming.  Witness Glenn Beck now praising Obama. Trump and Hillary are both shifting to light too!
Now, I understand a dream bugging me for months now.  In the dream I was Trump's social media manager for his new presidency.  Trump was young again in the dream and he was listening to me that he had to feed the poor, heal the sick, end war, be a champion for women rights and to stop being so damn mean.  Trump was listening and nodding yes!
I woke up in a cold WTF sweat!  I breathlessly told my love Elizabeth the dream. She hugged me back to sleep. Whoa!  Now I see it.  The shifted youthful new Trump of light in my dream is what we can look forward to.  I know, it sounds crazy.  But awakening has happened to me.  I was heartless Chicago real estate mogul for 20 years.  Chicago's #1 broker in '87, builder of Oprah's Harpo Studios.  I crushed all competition.  And I am living proof, as is Elizabeth who has awakened from a military life of 14 years, Trump will awaken.
So no wringing of hands tonight. Ring the bells of joy! Good times are coming, whoever wins, T or H, for us all.
This Bubble Nebula NASA spotted is a new universe rippling right for us. A wave of bliss like we've never seen! A true victory is near.
Congratulations to whoever wins. Be ready for change, change in your own heart and soul President Trump or President Hillary.
Now I also see why Ohom asked me to build him his own Twitter page ET OHOM yesterday.  Please follow him.  I will channel Ohom directly and he will answer your tweets.  Many of you are going to need the same calm amazing advice he gives to cope with this crazy world of our new president.
In closing, whoever wins tonight in the Quantum timeline T or H.  Relax.  The nastiest elections in history are over.
Originally Posted 11/2/16
Our Laughable Sad Elections
Early in this election I decided to sit out voting. I am still of that mind. More so, as the doo-doo of these two dodos float to the clogged toilet of our politics' surface.
After all, why vote for one of two rotten choices?  Our two party system has failed to produce a viable candidate. Bernie, we miss you, old man.  You were right, Hillary could not win.  You were the one.  All water under the gate.
But take heart, the President is not really running much of the show anymore. This sicko circus "the man" is putting on is all to distract us from the oil pipelines illegally being shoved down on our Native Americans throats, endless war, global warming, rotten treatment of our vets, the destruction of the middle class, failing Social Security, a failed Obamacare, a collapsing Department of Justice, a paralyzed Congress, ETC.
These elections are, in other words, political mind candy.  The sad joke is people think their vote for Trump or Clinton will make any difference. Did we learn nothing from Obama's milk toast presidency where the only hope was we'd have some change?
I confess, I watched all three Clinton/Trump debates. My excuse was I am doing this strictly as a media expert and observer.  Much to my surprise, the debates were worse than I expected.  All three "epic" debates amounted to nothing more than a nerd wrestling match. No serious topic was ever truly discussed.  Blah, blah, blah until I wanted two do an Elvis and shoot my TV set.  Flat screens are not as fun to blow up so I simply went to the toilet.
"Idiocracy" the film has come true.  Hillary only won the trilogy of nonsense debates on the momentum of Trump "locker room" wisecracking about his pussy grabbing and a host of women stepping forward to say he molested them. All of whom he's threatened to sue after he wins the rigged elections. What the hell?!   Is this really happening?
Eat your heart out George Orwell.  "1984" pales in comparison to all the insanity of brain washing dumped on our heads daily, along with increased chemtrail activity and frequency broadcasts. all to make us stupid cattle.
But what fascinates me most about the craziest election ever is that the FBI, despite Trump's obscene behavior has without question decided to do their best to derail Hillary. And FBI efforts have indeed made this a horse race for Trump. Lucky for him. He was nearly DOE, dead on elections.
Then last night the FBI reopened investigations in a 2005 pardon Bill Clinton made to a wealthy backer who was in jail for tax evasion. This FBI action clearly shows we are in the midst of an unprecedented internal government revolt.
Strange as it is, I see all this as ultimately healthy. The system is trying to purge itself of corruption. The FBI made the choice of Trump as the lesser of two evils when it began to be apparent the Clintons were on their way back into office. Why wait until now?  Seems 2005 is a bit in the rearview mirror.
How to stay positive in all this I ask spirit guide Ohom?  He says, "Laugh.  It's all part of a systematic destruction of the old, no matter who wins."
Originally Posted 10/13/16
How to Smile Your Way Through This Stinky Election
Today's planetary meditation is how to stay positive in the face of our world's depressing stinky state of politics.
There's lots of conspiracy talk about shadow governments really running our planet. It must be true because shadow energy is contagious and fear driven. One painful look at our sick American government shows it to be a shadow of it's former self.
Today's politics is like a decaying watermelon and we the ants forced to scurry here and there, desperately looking for the last bit of nourishment of red juicy melon goodness.  Fact is, both candidates are like choosing between two cups of yogurt far past their expiration dates. You can pick one but either will make you barf.
Sounds depressing until you realize decay is a natural part of the cycle of life. Bacteria feed and break down the old to be reborn into the new.
The trick to not falling into depression is to not focus on the old compost but on what is next. Why not a government run by Tweet polls on important matters? Perhaps we only need caretakers to carry out the wishes of the majority? Fire the politicians.
Above all stay positive avoid watching our equally decaying media heap manure on the compost pile of these elections.  You can get all you need to know stinky no-choice election from the comedians.  Bless them all.
Originally Posted 10/8/16
THE EVIL OF TWO LESSERS – NO GOOD CHOICE
2005 off camera audio has exposed Trump saying hid celeb status allows him to kiss any woman and grab her pussy. That's rape in a lot of states.
Hillary is officially now the EVIL OF TWO LESSERS choice. Which is sad. She's a war monger. Sadder even to think both these jerks are still in the race.
I had a vision a few weeks ago where, and I not religious so it mystifies me, but Jesus was captaining a ship, to his right stood a poster of Hillary, to his left a poster of Trump. And Jesus said to me, "Stop worrying. Either one who wins will bring about an end to the sham of your elections."
Originally Posted 8
Is Trump Heyoka?
When pundits and politicians call Donald Trump a clown they mean it negatively. But for the native Americans clowns are sacred.  I see Trump more precisely as a Lakota Heyoka clown.
See what I mean about Trump's sacred trickster nature in this Heyoka clipping from Wikipedia:
"The Heyókȟa is thought of as being backwards-forwards, upside-down, or contrary in nature. This manifests by their doing things backwards or unconventionally — riding a horse backwards, wearing clothes inside-out, or speaking in a backwards language. For example, if food is scarce, a heyókȟa may sit around and complain about how full he is; during a baking hot heat wave, a heyókȟa might shiver with cold and put on gloves and cover himself with a thick blanket. Similarly, when it is freezing he might wander around naked, complaining that it is too hot. A unique example is the famous heyókȟa sacred clown called "the Straighten-Outer":
He was always running around with a hammer trying to flatten round and curvy things (soup bowls, eggs, wagon wheels, etc.), thus making them straight.
The heyókȟa symbolizes and portrays many aspects of the sacred beings, the Wakȟáŋ. His satire presents important questions by fooling around. They ask difficult questions, and say things others are too afraid to say. Their behavior poses questions as do Zen koans. By reading between the lines, the audience is able to think about things not usually thought about, or to look at things in a different way.
Principally, the heyókȟa functions both as a mirror and a teacher, using extreme behaviors to mirror others, and forcing them to examine their own doubts, fears, hatreds, and weaknesses. Heyókȟa have the power to heal emotional pain; such power comes from the experience of shame — they sing of shameful events in their lives, beg for food, and live as clowns. They provoke laughter in distressing situations of despair, and provoke fear and chaos when people feel complacent and overly secure, to keep them from taking themselves too seriously or believing they are more powerful than they are.[3]"
Watch the news any day and the most backward of contrarian thing Trump said or did and you see why I think Donald has a lot Heyoka in his stirring up the system. And don't count him out.  Most people love clowns and other are terrified of them.  More Heyoka medicine.
Talk about Trump's Heyoka confirmation.  We all know politicians score pool points kissing babies. This is about as sacred clown backwards as it gets!  "What a baby!"
Talk about Trump's Heyoka confirmation.  We all know politicians score pool points kissing babies. This is about as sacred clown backwards as it gets!  "What a baby!"
Adding to this post, the Heyoka know as Trump went to far with his "joke" about Second Amendment people at an August 9th rally. This bit of sarcasm could knock the backward Heyoka horse rider off his presidential horse.
Update August 12th.  The Daily Show agrees Trump is clown/comedian.  Skip ahead to 5:25 in the excellent piece of Heyoka Trump.
BTW, please don't take this meditation as any endorsement on my part of the Don.
Originally Posted
THE EVIL OF TWO LESSERS
Summing up our choices for 2016 we have the choice between to ego maniacs who both love war and who both come with baggage that would normally mean prison time.
Normally, because politicians have become pawns of corporate and the 1%'s interests, we are at least given a choice of a lesser of two evils. But the shady and shoddy way Hilary does politics and the race baiting hateful way Trump operates have left us with a choice I can best describe as The Evil of Two Lessers.
As a filmmaker with a PBS show that led into the Bush-Gore presidential 2000 debates and a hit 2008 Youtube political series, I am something of an expert on the presidential elections and the usual gamesmanship.  But the outrageous 2016 elections have left me mystified.
I base my harsh assessment of our wicked choices this November on the fact both Trump and Hilary are hawks and ultimately servants to our military industrial complex.  This will mean more war instead of focusing on our troubles here at home.
For a time the opposing good of Bernie Sanders gave people that still believe we can right the ship of state some hope. This all happened despite a mass media that laughed Bernie off.
Meditating on the sorry state of our politics I am left with an old adage: Sometimes things need to get worse before they can get better.
So either Hilary or Trump as the evil of two lessers will serve to show American politics is broken. Life is a long song and maybe 2020 stands for the 20/20 vision we must develop.
In reaching out to my spirit guide Ohom he tells me that no matter who of these two opportunists we elect he and the ETs who watch over our world have our backs.
THE BEGINNING OF MY MEDITATIONS ON TRUMP
Well, it's been exhausting to assemble all. But here it is and it 20,000 words long.  Long enough for a 12 point style book.  But the story is not over.  What's going to happen to Trump over this year will be the end one way or another.
What's amazing to me is the clarity I had when I started that we had no good choice in our last election.  That's either Trump or Hilary are both crooks.
Here's hoping in the finishing of my meditations on Trump that I don't get sucked back into hate.
Peace.