On just his second day in office, before our two person meditation team even left Washington DC, Trump signed an executive order resuming work on both the Keystone and Dakota Access oil pipelines. He did so without so much as a mention of the Standing Rock Sioux Tribe at a North Dakota site whose lands and waters may become forever poisoned by this decision.
As backers of the water protectors, we at CoolestMeditationEver.com are outraged Trump began his presidency in such a disrespectful fashion. Despite all our good wishes for his becoming a successful president in attending his inauguration, our meditation team was thrown for a loop by his support of the oil industry over treaty law.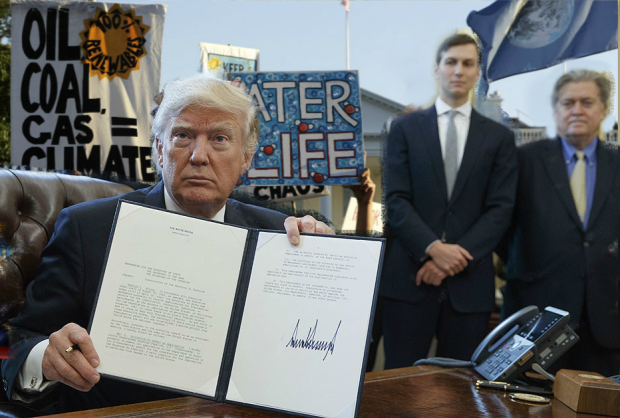 We sought cosmic guidance in many meditations upon our return to our base in Sedona Arizona. Still, our spirit guidance remained clear — transmute fear centering around Trump, a thin-skinned man with his finger on the nuclear trigger, to love. We were reminded daily by spirit, during Trump Twitter fits and his Muslim ban, that this transmutation is ALL we are to do through Trump's first 100 days, daily, and then intermittently for his entire presidency.
No matter how distasteful and scary we sometimes find the meditation work to offset this man's potent energy, even when he seems at times unhinged, we must and will carry on. Your support with both your donations and in spirit joining in the intention to shift fear to love is so appreciated and far more important than you can know.
It's been explained to us by our spirit guides that the USA as the #1 consumer and polluting nation–an invisible empire fueled by corporate greed, lust for oil and war–must be shifted to the light if humanity is to survive.
We must surrender to the fact that, for however how long he lasts in office, the universe selected Donald J Trump to be exactly where he is currently — stirring the pot.  Indeed, in the face of so many bizarre lies from the Trump administration, including a flat out effort to curtail if not eradicate the free press–a valuable freedom ever with all it's faults–we are seeing a renaissance of protesting and activism. For in every action there is an equal an opposite reaction.
However unpleasant and painful Trump's time in office is to we who love mother earth and all her creatures great and small on this precious blue world, we must hold the space that LOVE TRUMPS HATE.
Deep thanks to all who have been contributing to our Indiegogo that has paid for the trip to DC and our initial filming. Our next phase of the work is to interview conscious leaders about how to cope with the fear field Trump engenders and to meditate for solutions.
Please contribute yourself if you like what we are doing to bring hope to a hopeless seeming situation at LOVE TRUMPS HATE. 3 days left of the campaign as of this posting!